News Send news items to K7SU @ arrl.net
For national and world amateur radio news click on: ARRL NEWS
To submit a ham radio related news story to ARRL click on: SUBMIT STORY

This NEWS page contains stories pertaining mostly to Idaho hams.


+ + +

Court Rules Excessive Antenna Application Fees Violated Reasonable Accommodation 1/15/2019

Long-pending Amateur Radio antenna litigation that ARRL helped to fund has finally borne fruit. The Supreme Court of the State of New York, Appellate Division: Second Judicial Department has ruled in the case of Myles Landstein, N2EHG, that the Town of LaGrange, New York, not only overstepped its state-granted authority by assessing excessive fees, but violated the limited federal preemption PRB-1 in the process. PRB-1 requires municipalities and states to "reasonably" accommodate Amateur Radio antennas and to apply the "minimum practicable regulation" in handling Amateur Radio antenna applications. The ruling is slated to be published as a case decision. Landstein had wanted to erect a 70-foot antenna support structure; the Town of LaGrange has a 35-foot height limit.

"This case, which goes back to 2013, was about applying PRB-1 to a situation in which a municipality attempted to thwart the installation and maintenance of ham radio antennas by imposing excessive permit application costs on the ham applicant," said communications attorney Chris Imlay, W3KD, who is familar with the case. Imlay said the FCC has refused to clarify the cost-prohibition issue as it relates to PRB-1's "minimum practicable regulation" and reasonable accommodation provisions of PRB-1.

"The Town incurred more than $17,000 in legal consulting fees in connection with [Landstein's] applications, and informed the petitioner that he was required to reimburse the Town for these fees before any determination would be made with respect to the applications," the court decision recounted. "The Town subsequently, as 'an accommodation to the petitioner,' reduced the amount…to…$5,874, but also required the petitioner to maintain a minimum advance continuing escrow balance of at least $1,000 to cover the Town's future consulting costs…"

"We hold that, because the Town did not limit the consulting fees charged to the petitioner to those necessary to the decision-making function of the town's Planning Board and Zoning Board of Appeals, the town exceeded its state-granted authority by requiring payment of the consulting fees and, moreover, violated a rule promulgated by the [FCC]," the court concluded.

Given the significant delay, Imlay said both he and Landstein had lost hope that the case would ever be resolved in Landstein's favor — and in the favor of radio amateurs in New York, generally — much less be a case that would "create favorable precedent for Amateur Radio."

"ARRL originally was drawn to this case, because New York is the only state that, due to a very old case decision, has held that Amateur Radio antennas are not necessarily a "normal accessory use" to residential real property," Imlay explained. "Because the issue in the case dealt with both that issue and the issue of cost prohibitions in the permitting process relative to the cost of the antenna installation, we decided to fund the case." Landstein lost at trial, and an appeal was filed in about 2015, for which ARRL provided memoranda of law about the cost-prohibition issue. "The antenna at issue and the support structure was to cost no more than $1,000," Imlay said.

The court concluded that the town "may not use its land-use regulatory authority to construct 'hoop after hoop' for the petitioner to jump through in order to erect his radio antenna tower [and] cannot impose unreasonable expenses so as to create an insurmountable financial barrier to the pursuit of the project. In this context, not only must the consultant fees be reasonable…, but the underlying services must be necessarily related to those municipal regulatory functions which are not preempted by federal law."

http://www.arrl.org/news/view/court-rules-excessive-antenna-application-fees-violated-reasonable-accommodation


Idaho Ham Radio STEM-Fest 1/12/19

Finally, we now have a name. After dozens of great suggestions and much hashing about among the organizers, the new hamfest will be called "Idaho Ham Radio STEM-Fest" The name connects with STEM, (Science, Technology, Engineering, Math) and is an essential part of attracting the interest from youth and teachers.

It will be held in Mountain Home on Saturday, April 27th (mark your calendars). This first event will be a 9 AM to 4 PM one-day event, and we are currently in negotiations to hold this event at a Mountain Home School; we will keep everyone informed as this proceeds.

Idaho Ham Radio STEM-Fest will soon have a website with on-going details. As soon as its up we'll be getting its URL out to everyone, and all clubs will be able to link it to their website as well. Between the website, email bulletins, flyer's, discussions on club nets, etc., everyone should be well informed. And through your involvement, we'll be able to make this work.

It is now to the point where we are gathering up what the participating clubs will be bringing to this event. What will your club or organization have to offer? VE testing, workshops, CW contests, presentations, the list is wide open - think "out of the box." Out of ideas? Think of "STEM-Fest" and see what your club might have to offer.

Below is a list of clubs and other organizations that have either agreed or tentatively agreed to commit to the Idaho Ham Radio STEM‐Fest. This list will let everyone know who is planning on participating in the event, and can also be used to market to potential attendees to show them that this is a multi-faceted, well-supported hamfest.

We do not want to leave anyone out, so please let us know of any corrections to this list.
Ada County ARES
American Legion Amateur Radio Club
Boise County Amateur Radio Club
Boise County ARES
Elmore County Amateur Radio Club
Elmore County ARES
HP Boise Amateur Radio Club
Idaho AMRRON
Idaho Old Dusty Radio Club
Idaho QCWA
Idaho Society of Radio Amateurs
Magic Valley Amateur Radio Club
Mountain Home SECARC
Owyhee County ARES
Treasure Valley Radio Association
Valley Wide REACT
Voice of Idaho Amateur Radio Club

For more information contact Bob NU7L rjm @ interplus.net or Dan K7REX dan.marler@gmail.com

New D-Star ONE Nanosatellites Launched; Es'hail Testing Under Way

1/10/2019

A December 27 Soyuz launch deployed the two German Orbital Systems D-Star ONE satellites D-Star ONE – Sparrow and D-Star ONE – iSat. Beacons have been successfully received from both satellites, which carry a D-Star repeater with an uplink at 437.325 MHz and downlink at 435.525 MHz. The D-Star ONE – Phoenix 3U CubeSat, launched last February, was lost. This winter's D-Star mission was to include three D-Star CubeSats. A pair of Kanopus V remote-sensing satellites was the primary payload. The flight carried 28 satellites in all.

"During the first low-elevation pass over Berlin, our team established successful contact with both satellites," German Orbital Systems said. "The received telemetry confirms nominal status of all systems."

The December Soyuz flight also deployed the UWE-4 1U CubeSat carrying an electric propulsion experiment and a 70-centimeter 9.6 k AX.25 digipeater, with an uplink/downlink frequency of 437.375 MHz.

Elsewhere, AMSAT-DL (Germany) has reported that in-orbit testing of the P4-A ham radio transponders on Es'hail-2 has begun. AMSAT-DL cautioned that, under no circumstances, should anyone attempt to transmit on the Es'hail-2 uplink.

"Like everyone, we are very excited by the received signals so far, and we do appreciate any monitoring and receiving reports from the Amateur Radio community," AMSAT-DL. Unsolicited transmissions on the Es'hail-2 uplink not only could delay commissioning and adversely affect relations with satellite owner Es'hailSat.

When all in-orbit testing has been successfully completed, the satellite will be moved to its final orbital
position at 26° E.

Amateur Radio Applications in Limbo as Partial Shutdown Continues 1/10/2019

The FCC is not processing any Amateur Radio applications as the partial government shutdown approaches its fourth week. The FCC suspended "most operations" at mid-day on Thursday, January 3, although an appearance of activity continues. For radio amateurs, the shutdown means that while the Universal Licensing System (ULS) continues to accept applications for all valid purposes, the FCC will not review or act upon them until the funding stalemate is resolved. This includes Volunteer Examiner Coordinator test session batch files as well as modification, renewal, and vanity call sign applications filed by individual licensees. Amateur Radio newcomers who have passed the required examinations will have to wait until the shutdown concludes to receive a call sign and authorization to operate. License upgrades are also on hold.

"Due to a lapse in funding, the operations of the Federal Communications Commission will be limited with no system support. We regret any inconvenience," the FCC says on the ULS home page. This means very limited human intervention while the shutdown continues, and if a system breaks down, it may not be repaired until after employees back on the payroll. At this point, 262 of 1,437 FCC employees (excepting contractors) remain on the job, as are FCC Commissioners.

The Antideficiency Act prohibits FCC and other federal employees from working until funds are available to pay them; they may not even volunteer, check their email, or attend meetings. While the law doesn't directly affect FCC automated filing databases, some of these cannot operate without regular human intervention.

The Commission has emphasized that it will undertake any activities necessary for the protection of life and property during the funding lapse. That includes the High Frequency Direction Finding (HFDF) Center in Maryland, considered essential.

The FCC website remains up, and the FCC Daily Digest of its activity continues to be posted, but the website is not being updated, and the only items in the Daily Digest are those related to spectrum auctions, activity that is funded through auction proceeds, not government funds. The Electronic Comment Filing System (ECFS) also will accept posts, but filings will not be reviewed or processed until after normal operations return.

The FCC spelled out the overall impact of the funding lapse in a January 2 Public Notice. Using available funds, the agency was able to maintain a business-as-usual posture until that date. The FCC released an updated Plan for Orderly Shutdown Due to Lapse of Congressional Appropriations on January 9. The resumption of normal operations will also be announced on the FCC's website.

http://www.arrl.org/news/view/amateur-radio-applications-in-limbo-as-partial-shutdown-continues

New General Class Question Pool Released, Effective July 1

1/7/2019

The National Conference of Volunteer Examiner Coordinators (NCVEC) Question Pool Committee has released the 2019 – 2023 FCC Element 3 General Class Question Pool into the public domain. The 2019 – 2023 General Class (Element 3) Question Pool is available in Word, ASCII text, and PDF versions. The new Question Pool is effective for Element 3 exams administered on or after July 1, 2019.

The Question Pool Committee also released on January 6 a revised diagram Figure G7-1 (PDF) (JPG), as part of the new Element 3 Question Pool. — Thanks to NCVEC Question Pool Committee

Upcoming Contests

See something on this contest list that looks interesting and fun? Click the link to go to the
ARRL CONTEST CALENDAR to find out the details.

Just Ahead in Radiosport

<![if !supportLists]>· <![endif]>January 5 -- PODXS 070 Club PSKFest<![if !supportLists]>
<![endif]>January 5 - 6 -- WW PMC Contest (CW, phone)
January 5 -- RSGB AFS Contest (CW, phone)<![if !supportLists]>
<![endif]>January 5 -- ARRL Kids Day (Phone)<![if !supportLists]>
<![endif]>January 5 - 6 -- ARRL RTTY Roundup<![if !supportLists]>
<![endif]>January 5 - 6 -- EUCW 160-Meter Contest (CW)<![if !supportLists]>
<![endif]>January 7 - 13 -- All IQRP Quarterly Marathon (CW, phone, digital)<![if !supportLists]>
<![endif]>January 8 -- ARS Spartan Sprint (CW)

See the ARRL Contest Calendar for more information. For in-depth reporting on Amateur Radio contesting, subscribe to The ARRL Contest Update via your ARRL member profile email preferences.
---

Upcoming ARRL Section, State, and Division Conventions
<![if !supportLists]>· <![endif]>January 5 -- New York City-Long Island Section Convention, Brookville, New York<![if !supportLists]>
<![endif]>January 12 -- Georgia ARES Convention, Forsyth, Georgia<![if !supportLists]>
<![endif]>January 18 - 19 -- Southern Florida Section Convention, Fort Myers, Florida<![if !supportLists]>
<![endif]>January 18 - 19 -- North Texas Section Convention, Forest Hill, Texas<![if !supportLists]>
<![endif]>January 20 - 26 -- Quartzfest Convention, Quartzsite, Arizona<![if !supportLists]>
<![endif]>January 25 - 26 -- Mississippi State Convention, Jackson, Mississippi<![if !supportLists]>
<![endif]>February 2 -- South Carolina State Convention, North Charleston, South Carolina<![if !supportLists]>
<![endif]>February 2 -- Roanoke Division Convention, Richmond, Virginia<![if !supportLists]>
<![endif]>February 8 - 10 -- Southeastern Division Convention, Orlando, Florida<![if !supportLists]>
<![endif]>February 15 - 16 -- Southwestern Division Convention, Yuma, Arizona<![if !supportLists]>
<![endif]>February 16 -- LCARC Winter-Fest, Hoxie, Arkansas<![if !supportLists]>
<![endif]>February 22 - 23 -- TECHCON Conference, Tampa, Florida<![if !supportLists]>
<![endif]>February 23 -- New Mexico TechFest, Albuquerque, New Mexico<![if !supportLists]>
<![endif]>February 23 -- Vermont State Convention, S. Burlington, Vermont
+ + +
"Idaho State Convention" Rebirth Coming in April 1/4/19
An official name for the event to replace the Idaho State Convention is being decided upon now but the event will be held on April 27th, 2019 in Mountain Home. It will be a one day event, at least for this first year. Here is a link to a video of the last meeting which was held on January 2, 2019.
Click Here for the link to the meeting
+ + +
ARRL Asks FCC to Incorporate Parity Act In Amateur Rules 12/20/2018
The ARRL has filed a Petition for Rulemaking (PRM) asking the FCC to amend its Part 97 Amateur Service rules to incorporate the provisions of the Amateur Radio Parity Act. The Petition has not yet been assigned a rule making (RM) number and is not yet open for public comment. In the past, the FCC has said that it would not take such action without guidance from the US Congress, but, as ARRL's Petition notes, the Congress "has overwhelmingly and consistently" offered bipartisan support for the Amateur Radio Parity Act.

"Private land use regulations which either prohibit or which do not accommodate the installation and maintenance of an effective outdoor antenna in residences of Amateur Service licensees are unquestionably the most significant and damaging impediments to Amateur Radio Service communications that exist now," ARRL said in its Petition. "They are already precluding opportunities for young people to become active in the avocation and to conduct technical self-training and participate in STEM [science, technology, engineering, and mathematics] learning activities inherent in an active, experiential learning environment. Without the relief in this Petition, the future of Amateur Radio is bleak indeed." The proposed amendments would have no effect on the FCC's limited preemption policy in §97.15(b), which pertains to state and municipal governing bodies, ARRL said.

Specifically, ARRL is proposing that the FCC amend Part 97 by adding a new subsection under §97.15, that prohibits and ceases the enforcement of, "Any private land use restriction, including restrictive covenants and regulations imposed by a community association," that either fails to permit a licensee to install and maintain an effective outdoor antenna capable of operation on all Amateur Radio frequency bands, on property under the exclusive use or control of the licensee; precludes or fails to permit Amateur Service communications, or which does not constitute the minimum practicable restriction on such communications to accomplish the lawful purposes specifically articulated in the declaration of covenants of a community association seeking to enforce such restriction. ARRL's proposed rule would not affect any existing antenna approved or installed before the effective date of a Report and Order resulting from ARRL's petition.

The proposed provisions reflect the accommodation reached in the ultimate version of the Parity Act bill at the urging of federal lawmakers between ARRL and the Community Associations Institute (CAI), the only organization representing homeowners' associations. "That legislation was passed unanimously by the House of Representatives four separate times and has the support of the Senate Commerce Committee and the current Administration," ARRL stressed.

"Private land use regulations are not 'contracts' in the sense that there is any meeting of the minds between the buyer and seller of land," ARRL said. "Rather, they are simply restrictions on the use of owned land, imposed by the developer of a subdivision by recordation in the land records of the jurisdiction when it is first created. They bind all lots in the subdivision. If an Amateur Radio licensee wants to buy a home in a subdivision burdened by deed restrictions, that licensee has precisely two options: Buy the residence subject to the restrictions, or do not buy the residence. There is no negotiation possible because the restrictions are already in place and cannot be waived by a seller in favor of a buyer."

ARRL noted in its Petition that an increasing number of homes available for purchase today are already subject to restrictive covenants prohibiting outdoor antennas, and that the Community Associations Institute data show that 90% of new housing starts in the US are subject to deed restrictions and other limitation that make installation of outdoor Amateur Radio antennas ineffective or impossible.

Also, ARRL pointed out that the Telecommunications Act of 1996 gives the FCC jurisdiction "to preempt private land use regulations that conflict with federal policy and that private land use regulations are entitled to less deference than municipal regulations, because the former are premised solely on aesthetic considerations rather than safety issues, whereas municipal regulations are concerned with both."

"It is now time for actual and functional parity in the Commissions regulations in order to protect the strong federal interest in Amateur Radio communications," ARRL said.

Dan Marler, K7REX
Idaho ARRL Section Manager Elect
208-914-8939
K7REX@arrl.net

+ + +
Swap Meet / Hamfest second planning meeting held on 12/06/18
(Watch a video of the meeting HERE )

The following are points discussed at the second planning meeting.

Event Date: April 27th, the Saturday of the last weekend in April was chosen for this event, subject to change if a significant conflict arises.

Location: Mountain Home was chosen for this first event. This makes it more of an in-between location for everyone in the Treasure and Magic Valleys and possibly might attract people from Eastern Idaho.
Tony Schiro, N2VPZ and Susan KI7YIU from the Elmore ARC volunteered to scout out a location in Mountain Home. They were thinking of trying to get into one of the school locations pending approval by local school authorities. If the event could be tied in with the general public as an educational/emergency prep activity, the school location would be ideal.

Event Name: The event name should come from club members with suggestions submitted through their club representative or website forum¬. The only rule being that the name of this event has something that identifies it as a ham radio event. Some of the ideas brought up were Southern Idaho Hamfest, Southern Idaho Amateur Radio (Blank) Idaho Council of Radio Clubs, IdaHam, or some other combinations. Please submit your suggestions.

Kelly Klaas, K7SU offered to set up an online forum for event planning and communications on the new ARRL Idaho Section website at http://www.idahoarrl.info/forumdiscussion.html. This would allow people involved and/or interested in the event to share and discuss thoughts and ideas.
Event discussions: Matt Thurston, N7DFL from ISRA brought up operating a Special Events station as part of the event and this was discussed. Rob Blout, KA7ERV from the Boise County ARES group volunteered to help set up and operate an event station and also bring their ARES communications van.

Mike Dunlap, K7MYU from the VOI Club volunteered the club's list of past speakers as an option for speakers at this upcoming event.

Tony Schiro, N2VPZ from the Elmore County ARC offered their club's Volunteer Examiner participation for license testing at the event. Note, several clubs have expressed an interest in VE testing and may need to combine their efforts.

Ron Morell, KA7U from TVRA suggested by email that there should be non-ham activities as well for spouses, kids, etc., that might include (but not limited to) crafts, painting, sewing, tea, and crumpets. Dan Marler, K7REX added that depending on location, RC flying might be included.
ARRL: Rather or not to have the ARRL sanction this event was discussed and shelved for future meetings due to ARRL requirements.

Marketing: Marketing is of paramount importance to make this event a success. Carol Reser, KC7MYN from The Old Dusty Radio Club suggested that each participating club take responsibility to make sure that their club members are not only informed about the event by all means possible, (nets, websites, Facebook, etc.,) but also encouraged all to participate.

Seed money: Seed money will have to be determined after any overall expenses are calculated.

SUGGESTIONS FOR NEXT MEETING
• Continue discussion on name
• More feedback from each club as to how they can participate and promote
• Discussion on how this event can be promoted among Idaho hams and beyond
• Feedback from Tony and Susan on location and RV/Motel/Hotel facilities in Mountain Home
• Additional brainstorming of ideas

THANK YOU ALL FOR YOUR PARTICIPATION Respectfully, Bob Minton NU7L rjm@interplus.net
+ + +
IMPORTANT: Please check to see if your Idaho repeaters are listed correctly.
12/8/2018
<![if !vml]>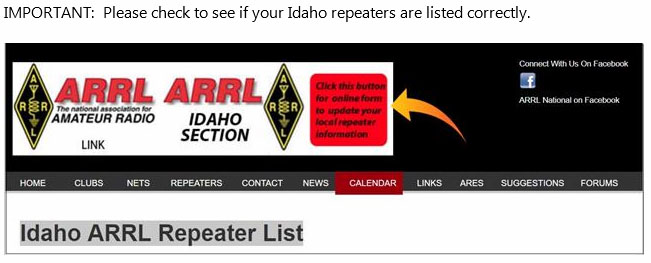 <![endif]>
https://www.idahoarrl.info/new/repeaters2.html
+ + +
Dan Marler K7REX is Idaho SM Elect 12/8/2018
ARRL election polls for Idaho's ARRL Section Manager (SM) are now closed; Dan Marler, K7REX is now Idaho's ARRL Section Manager elect. Ed Stuckey, AI7H, will be stepping down after serving ten (10) years as Idaho's ARRL SM and passing the hat over to Dan April 1, 2019.
+ + +
Idaho Section ARRL Introduces New Idaho ARRL Website 12/8/2018
It's a new look for the Idaho Section ARRL website. The new site launched officially at midnight December 8, 2018. The new site has many resources for Idaho hams that were not previously available including a forum page. There are several forums that you can now participate in and new ones can be created on the fly. The statewide repeater list has also been updated and there is an online form that you can fill out and send with corrections you may have to the current list. There is a COMING EVENTS page where you can list upcoming events and activities for your local ham radio club. This is also a work in progress so new features will be added along the way. If you have ideas for features please email K7SU @arrl.net. If you are reading this then you already have the link for the new site but for the record it is www.idahoarrl.info. Be sure to pass it along to others who may not know.
+ + +
Idaho SM Ed Stuckey Announces Two Team Changes and One New Appointment 12/5/2018
Idaho ARRL Section Manager Ed Stuckey AI7H, has announced two appointment changes and one new appointment to the Idaho ARRL team.

Richard Dees W7BOI, has been appointed the Section Emergency Coordinator for the Idaho Section. Dees will oversee County Emergency Coordinators (EC's), District Emergency Coordinators (DEC's), and Assistant Section Emergency Coordinators (ASEC's) from around Idaho.

Marty Edwards AK7ME, formerly Section Emergency Coordinator (SEC), has been appointed Assistant Section Manager (ASM). Edwards will assist the Idaho Section Manager in duties from his eastern Idaho section.

Terry Fletcher, K7THF, has been appointed to the position of ARES Emergency Coordinator for Twin Falls County. Fletcher's ongoing work in organizing emergency communications in Twin Falls County is being formally recognized through this appointment as EC for Twin Falls County.

+ + +
Idaho Hams Monitor New Satellites for AMSAT 12/4/18
AMSAT's latest Fox series cubesat was successfully launch yesterday. It is currently in SAFE mode being evaluated by the AMSAT team. No user operation, PLEASE.
Veronica, the Fox series voice, announces every two minutes and simultaneously transmits data (DUV). Both Lisa, AK7WS, and Stephen, N7DJX, our local ground stations in the Boise area, are copying the data and relaying it to AMSAT.
This is four successes for four Fox tries by AMSAT, a truly remarkable accomplishment. The fifth, and final, Fox cubesat will be launch soon. All bets say that will make it 5/5!
73
Gene W4IMT

+ + +
Some Ham Radios Modes Under Scrutiny as National Security Risk 11/24/18
Click this link for the full story
+ + +
Science Community Reports Interesting Phenomenon..."Dead" Bands with Many Contacts! 11/18/2018
Click this link for the full story.
+ + +
PNW ARRL Director and Vice Director Elected 11/17/2018
ARRL Northwestern Division Director

Mike Ritz, W7VO 1,589
Bonnie Altus, AB7ZQ 1,308
Horace Hamby, N7DRW 495
Mr. Ritz was declared elected.

ARRL Northwestern Division Vice Director

Mark Tharp, KB7HDX 1,368
Daniel Stevens, KL7WM 1,228
Delvin Bunton, NS7U 767
Mr. Tharp was declared elected.

VHF Interference in Boise area found and corrected 11/15/2018
From Amos Kirk, KT7WW

Final cause of VHF interference: 11/14/18 11:20 local time I followed up with the St. Lukes IT department complaint ticket that I initiated Friday 11/9/2018. When I finally got past the press this button press that button game, I stated that I was following up on an existing ticket, and gave them the ticket number to their tech. The tech gave me the status of the problem. The complaint ticket had been forwarded to the appropriate department, and had been updated. The IT department tech read the report on the problem ticket to me. Final problem was a power amplifier in one of their paging systems on the rooftop. The power amplifier was self oscillating.

At that point in time, I told them that I would like to confirm that our source of interference is gone, and on behalf of the local Amateur radio community, we greatly appreciate their quick response and resolution to the problem. I requested that the IT department tech forward our confirmation and appreciation in how they handled the problem to the appropriate department, which he said he would

I also updated my complaint ticket with the FCC this morning to let them know the problem has been resolved.
My thoughts on the what's and why's and how's.... A failed piece of equipment such as an amplifier when self oscillating may not lock onto one particular frequency. As a result, it could very easily walk across a frequency range with no predictable pattern. As I demonstrated in a previous post, the pager frequency could be observed transmitting just like it should, so they would never have any reason to go looking for a problem. However, when observed alongside our interference problem, you could start to clearly see what was happening. Every time the pager unkeyed, our problem would appear, and last until the pager keyed up again, and be gone until it unkeyed.

Since there is no predictable pattern to when a page, goes out, or how many pages go out at one time, we would see some very strange patterns of when this thing would transmit spurious emissions on our frequencies.. Couple up that with the self oscillating factor, and there you have it.

Now... even if that amplifier was only oscillating at a 1 watt output, you could still have a very strong signal that could be heard over many miles. Couple that signal source to (for example) a 9 DB gain antenna on a rooftop, and now you have an 8 watt effective radiated power signal. Even if it only put out 1/2 a watt, you STILL would get 4 watts ERP assuming minimum loss in any feed between the transmitter and antenna.

Again, a great big THANK YOU to all who participated in helping find it. I really enjoyed the chance to discuss the possibilities of what it could be, how we might find it, and how we might fix it. I was very happy to see other hams willing to take some time to go look for it. Thanks to all who provided observations from around the city. Everyone handled this situation in a way that represented who we are as Amateur Radio operators very well. This was truly a great collaborative effort. I'm happy we could get this problem solved before the upcoming Fox 1C satellite launch. The best part of my day yesterday was right at the end of it. I opened up an email from H. Stephen Nipper N7DJX reporting to me that the frame rate from last night's AO-92 pass was back where it should be.

11/3/2018
Video link of first meeting/planning session for a new Idaho State Convention

A meeting was held in Boise November 1st among representatives from various Idaho ham radio clubs. The purpose of the meeting was to see if there is enough support to revive the Idaho State Convention. The meeting was recorded and can be viewed in its entirety from THIS LINK. After viewing the video please email any comments you may have to ARRL Asst. Section Manager Dan Marler. dan . marler @ gmail . com
Or you can use the "Suggestion Box" located HERE.
10/13/2018
Rumors of the death of the Idaho State Convention may be exagerated.
Idaho ARRL Asst. Section Manager Dan Marler told the members of the Magic Valley Amateur Radio Club Saturday that he is working to bring back the Idaho State Convention. He said the convention was a great thing for Idaho hams and he would like to help the various clubs around the state work together to bring it back. He said with several clubs working on it there is a better chance of long-term success. He will be forming a work group soon with representatives of the various clubs around the state to start working toward that goal. The meeting will be announced later but will probably be held in the Boise area. The Idaho State Convention was started in 2009 by the Voice of Idaho ARC. The last year it was held was 2017.
+ + +
10/3/2018
ARRL Foundation Announces Scholarships
The ARRL Foundation announces the period for scholarship application submission begins Monday, October 1, 2018 and ends January 31, 2019. Remember, there are a few scholarships where Northwestern Division applicants are given some preference:
Mary Lou Brown Scholarship
Wilse Morgan Memorial Scholarship
Joel and Martha Miller STEM Scholarship
William Bennett Memorial Scholarship
Lois Manley and Randall Pitchford Scholarship
Spread the word; let's help some of these students along. More information can be found at:
http://www.arrl.org/scholarship-descriptions
ARRL Northwestern Division
Director: James D Pace, K7CEX
k7cex@arrl.org
+ + +
10/03/2018
ARRL Elections Northwest Division
In the Northwestern Division, both the Director's and Vice Director's chairs are up for grabs, as incumbent Jim Pace, K7CEX, has opted not to seek a new term on the Board. Incumbent Vice Director Bonnie Altus, AB7ZQ, is in a three-way race for the Director's seat. The other two candidates are Horace Hamby, N7DRW, and Mike Ritz, W7VO. A three-way race also exists for the Vice Director's seat that Altus is vacating in order to run for Director. The candidates are Delvin Bunton, NS7U; Daniel Stevens, KL7WM, and Mark Tharp, KB7HDX.
+ + +
9/26/2018
ARES Volunteers Help In South Carolina
Amateur Radio Emergency Service (ARES) volunteers from several South Carolina counties are pitching in to help support emergency communication, as the state deals with the aftereffects of Hurricane Florence. The storm, now a tropical depression, continues to generate heavy rainfall in the Carolinas. "Amateur Radio operators are far from 'amateurs' when it comes to providing communication in an emergency," ARES Richland County Emergency Coordinator Ronnie Livingston, W4RWL, said. "Our volunteers here in Richland County have been staffing stations at the Richland County Emergency Operations Center (EOC), as well as at the Red Cross, since the requests were first received." ARES District Emergency Coordinator EMEA Area 3 Earl Dean, W4ESD, said operators at the State Emergency Operations Center (SEOC) have been keeping in contact with field volunteers in Marion and Dillon counties, after conventional telecommunications failed there. "We were able to deploy assets and personnel, thanks to our volunteers who managed communications between these areas and coordinated with the appropriate agencies," Dean said. "South Carolina ARES is fully activated," ARRL South Carolina Section Emergency Coordinator Billy Irwin, K9OH, told ARRL in advance of the storm, adding that he's been coordinating regularly with the SC Emergency Management Division." ARRL South Carolina ARES needs additional Amateur Radio volunteers to assist with the response effort and is in discussion with the ARRL Alabama Section to fulfill this need through a mutual aid agreement. Gordon Mooneyhan, W4EGM, Public Information Officer (PIO) for the Grand Strand Amateur Radio Club (GSARC), said radio amateurs set up and managed organized communication networks to assist local government
and emergency agencies, as well as non-commercial health-and-welfare messaging for residents affected by the disaster, to let family members outside the affected area know they are okay. On-air operations for National Hurricane Center station WX4NHC, the Hurricane Watch Net, the VoIP Hurricane Net, and SATERN have concluded. — Thanks to ARRL South Carolina Section PIC Tammy A. Livingston, N4TAL