Idaho Ham Radio News Send news items to K7SU @ arrl.net
For national and world amateur radio news click on: ARRL NEWS
To submit a ham radio related news story to ARRL click on: SUBMIT STORY

This NEWS page contains stories pertaining mostly to Idaho hams.

+ + +
QST QST QST Zoom Workshops for learning Winlink and FLDigi for HF
If you are interested in learning Winlink and/or FLDigi for HF for communications and Emergency Services, there is a workshop that is held on ZOOM meetings every Monday, Wednesday and Friday of every week at
7 a.m. If you are interested in getting plugged in to this workshop to learn these modes, please email Rob Blout KA7ERV... KA7ERV@ gmail.com. He will put you on the ZOOM reminder email list so you can start attending the ZOOM workshops.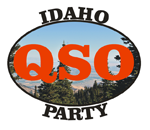 + + +
Effective April 19, 2022, a $35 fee will apply to applications for a new Amateur Radio license, modification (upgrade and sequential call sign change), renewal, and vanity call signs.

Anticipating the implementation of the fee in 2022, the ARRL Board of Directors, at its July 2021 meeting, approved the "ARRL Youth Licensing Grant Program." Under the program, ARRL will cover a one-time $35 application fee for license candidates younger than 18 years old for tests administered under the auspices of the ARRL Volunteer Examiner Coordinator (ARRL VEC). Qualified candidates also would pay a reduced exam session fee of $5 to the ARRL VEC. ARRL is finalizing details for administering the program.

ARRL had filed comments in opposition to imposing a fee on Amateur Radio license applications. The FCC initially proposed a higher, $50 fee. In a Report and Order (R&O), released on December 29, 2020, the amount was reduced -- the FCC agreeing with ARRL and other commenters that its proposed $50 fee for certain amateur radio applications was "too high to account for the minimal staff involvement in these applications."

ARRL Volunteer Examiner Coordinator (ARRL VEC) Manager Maria Somma, AB1FM, explained that all fees are per application. "There will be no fee for administrative updates, such as a change of mailing or email address. The fees will be the responsibility of the applicant regardless of filing method and must be paid within 10 calendar days of FCC's receipt of the application. For applications filed by a VEC, the period does not begin until the application is received by the Commission, a ULS file number assigned, and an email sent by the FCC directly to the applicant."

VECs and Volunteer Examiner (VE) teams will not collect the $35 fee at license exam sessions. New and upgrade candidates at an exam session will continue to pay the $15 exam session fee to the ARRL VE team as usual, and pay the new, $35 application fee directly to the FCC by using the CORES FRN Registration system (CORES - Login).

The CORES Login can be found at,
https://apps.fcc.gov/cores/userLogin.do .

When the FCC receives the examination information from the VEC, it will email a link with payment instructions to each successful candidate who then will have 10 calendar days from the date of the email to pay. After the fee is paid and the FCC has processed an application, examinees will receive a second email from the FCC with a link to their official license or explanation of other action. The link will be good for 30 days.

Somma also explained that applications that are processed and dismissed will not be entitled to a refund. This includes vanity call sign requests where the applicant does not receive the requested call sign. "The FCC staff has suggested that applicants for vanity call signs should first ensure the call signs requested are available and eligible for their operator class and area, and then request as many call signs as the form allows to maximize their chances of receiving a call sign."

Further information and instructions about the FCC Application Fee are available from the ARRL VEC at www.arrl.org/fcc-application-fee.
Details for the ARRL Youth Licensing Grant Program will be similarly posted there, when available.
NNNN
/EX
+ + +
Post Falls Ham Radio Operators Help Police Find Two Missing Children 9/15/2020 UPDATE

On September 16 at about 5:35PM the Post Falls, Idaho Police Department (PFPD) received a 911 call that two juveniles age 9 and 11 had been missing from a Post Falls residence for about an hour. It was reported that they had left the residence with the intent to play with FRS radios in the neighborhood. Several marked patrol cars were dispatched to the area to conduct a visual search, and detective Neil Uhrig (K7NJU) responded as officer in charge due to his training and experience with missing persons investigations. The initial search focused on a two-mile radius from the missing kid's residence.
One of the patrol officers received information from witnesses that the kids were probably using FRS Channel 1. An officer returned to PFPD to retrieve some FRS radios for distribution to the patrol cars so they might be able to hear the kids talking. Meanwhile K7NJU pulled out his Baofeng VHF/UHF radio, with thoughts of setting up FRS Channel 1 as an auxiliary frequency. However, without the manual on hand it didn't seem executing the setup was a viable option. But he did hear the Northwest Traffic Net (NWTN) that had begun at 6:30PM on the local 2-Meter repeater.
Using his detective mind and ham radio ingenuity, K7NJU checked in to NWTN at about 6:45PM and explained the missing persons situation to NCS Shannon Riley (KJ7MUJ), and asked if participants in the Post Falls area with FRS capability could turn on their FRS units and listen for kids talking. The group responded quickly, with a number of stations reporting that they did have FRS radios and were listening on FRS Channel 1. It was assumed that only stations located near the missing kids would hear them because of the limited FRS radio range.
At about 7:14PM, Jim Hager (KJ7OTD) reported that he was hearing children talking on FRS Channel 1. K7NJU went to Jim's home to confirm his observation, and the patrol units were redirected to the new search area. A short time later the kids were found safe and returned home. K7NJU says that the remarkable thing about this incident was that the kids were some distance from the original search area, and in the opposite direction from where it was expected they might have headed.
Net Manager Gabbee Perry (KE7ADN) said "I'm so proud of what a superior job NWTN NCS Shannon and all the operators did last Wednesday! It was a very unusual situation but everyone had excellent focus and used their resourcefulness to help quickly find the missing kids."
+ + +