News Send news items to K7SU @ arrl.net
For national and world amateur radio news click on: ARRL NEWS
To submit a ham radio related news story to ARRL click on: SUBMIT STORY

This NEWS page contains stories pertaining mostly to Idaho hams.

+ + +

Idaho Ham Radio STEMfest 2020 Cancelled Due to Covid-19
Due to the concerns of the Covid-19 virus, the STEMfest scheduled for Mountain Home April 25th has been cancelled. The committee felt it was important to err on the side of caution and cancel the event for this year. There was also concern that a lot of effort could be put into it only to have no one show up. The committee will begin planning for next year's event. If your club or organization would like to participate or if you need more information please contact Bob Minton NU7L (dot) Idaho@ gmail.com
+ + +
What's The Status with Calfire and Ham Radio? 2/23/2020

Last October, Rob Brodovsky K6UDA posted a YouTube video about California no longer needing ham radio. His reporting caused a firestorm of reactions and comments that are still going on today. Below is a link to a K7UDA just-released follow-up video that speaks to where that situation stands today titled "Big Victory for Ham Radio vs Calfire." This video is an important one to watch.
+ + +
ARRL Opposes FCC Plan to Delete the 3.4 GHz Band 2/25/2020

ARRL has filed comments opposing an FCC proposal to delete the 3.3 – 3.5 GHz secondary amateur allocation. The comments, filed on February 21, are in response to an FCC Notice of Proposed Rulemaking () in WT Docket 19-348 in which the FCC put forward a plan to remove "existing non-federal secondary radiolocation and amateur allocations" in the 3.3 – 3.55 GHz band and relocate incumbent non-federal operations. The FCC's proposal was in response to the MOBILE NOW [Making Opportunities for Broadband Investment and Limiting Excessive and Needless Obstacles to Wireless] Act, enacted in 2018 to make new spectrum available for mobile and fixed wireless broadband use. ARRL noted that amateur radio has a long history of successful coexistence with primary users of the band.
"There is no reason suggested by the Commission, or known to us, why the secondary status for amateur radio operations should not be continued for the indefinite future," ARRL said in its comments. "We understand that secondary commercial users are less flexible than amateur radio users and may desire to relocate to protect continued provision of services and service quality. Radio amateurs, by contrast, benefit from having technical knowledge and no customer demands for continuous service quality, more flexibility to make adjustments, and often have the technical abilities necessary to design and implement the means to coexist compatibly with the signals of primary users."
ARRL pointed to amateur radio's "decades-long experience observing and experimenting with radiowave propagation" in the 3.3 – 3.5 GHz band that includes mesh networks, amateur television networks, weak signal long-distance communication, Earth-Moon-Earth (moonbounce) communication, beacons used for propagation study, and amateur satellite communications. In its comments, ARRL argued that it would be "premature" to remove the current secondary amateur radio allocation.
"This spectrum should not be removed from the amateur radio secondary allocation and left unused," ARRL told the FCC. "Only at a later time may an informed assessment of sharing opportunities be made in the specific spectrum slated for re-allocation.... This depends upon the Congressionally-mandated NTIA studies of sharing or relocation options that have yet to be completed and, if all or part of this spectrum is re-allocated, the nature and location of buildout by the non-federal users." The NTIA oversees spectrum allocated to federal government users. ARRL noted that radio amateurs have established extensive infrastructure for the current band and are engaged in construction and experimentation that includes innovative "mesh networks" and amateur television networks that can be deployed to support public service activities.
With the NTIA report addressing the 3.1 – 3.55 GHz spectrum not expected until late March, ARRL said, "we do not yet know how much spectrum below and above the amateur secondary allocation may be reallocated to non-federal users and what opportunities may exist or be developed to share [that] spectrum" with new primary users and systems.
"Even if suitable new spectrum could be found for the existing amateur uses — which is difficult before the spectrum musical chairs activity is concluded — the costs to radio amateurs would be significant and be borne with no countervailing public benefit," ARRL told the FCC.
"If the advent of new primary licensees forecloses some types of secondary operations, the amateur community will reevaluate the situation when some certainty exists," ARRL concluded.
+ + +
ARRL Expands its Roster of Online Discussion Groups 2/29/2020
ARRL's Committee on Communication with Members has launched three new online discussion forums as part of its ongoing efforts to enhance and improve communication between ARRL leadership and members or prospective members. The new forums, which focus on antenna law, regulatory issues, and support for new amateur radio licensees, will go live on Thursday, January 30, at 0400 UTC.
The committee launched the three new discussion groups on the basis of requests from the amateur radio community, to support ARRL's efforts to provide more resources for beginner-to-intermediate operators.
The online discussion program launched last fall with three forums — contesting, awards, and the International Amateur Radio Union (IARU) — all open to the amateur radio community. The program was based on the success of the online ARRL-LoTW Group, which, for the past several years, has served to answer questions and generate discussions about ways to improve the service.
ARRL New England Division Director and attorney Fred Hopengarten, K1VR, will moderate the

Antenna Law and Policy Forum

. Hopengarten is the author of

Antenna Zoning for the Radio Amateur

.

ARRL Regulatory Affairs Manager Dan Henderson, N1ND, will moderate the

Regulatory Affairs

forum.

QST

Editor and ARRL Publications Manager Steve Ford, WB8IMY, will moderate t

he

New Hams

forum.
ARRL IT Manager Michael Keane, K1MK, worked with Groups.io to set up the new groups. Those wishing to subscribe must use a Groups.io username and password, if they have one, or create a Groups.io account if they don't.
The new groups join an ARRL discussion forum lineup that already includes:
Everyone who subscribes to an ARRL Group is automatically subscribed to "ARRL Groups," an administrative feature that allows ARRL to convey routine announcements to subscribers of all ARRL groups, such as planned system outages.
ARRL expects to create additional online groups that focus on other areas of interest to radio amateurs, including ARRL activities, services, initiatives, and policies.
ARRL currently hosts some "members-only" online forums that include the topics of Awards and Contesting. While these forums will continue to operate, participants are being encouraged to post new topics in the new Groups.
All questions will be welcome, no matter how many times they have already been asked and answered, or how obvious the answers might be. Neither personal attacks nor foul language will be tolerated. Violators will immediately be placed on "moderated" status, meaning their subsequent posts will require Moderator approval. Civility and courtesy are expected, even when disagreeing.
The Committee believes that providing more opportunities for two-way discussion between the organization's leaders and the entire ham radio community will assist ARRL in truly serving the needs of this community. — Thanks to ARRL Communications Manager Dave Isgur, N1RSN
http://www.arrl.org/news/view/arrl-expands-its-roster-of-online-discussion-groups
+ + +
Foundation for Amateur Radio Invites 2020 – 2021 Academic Year Scholarship Applications 1/29/2020
The Foundation for Amateur Radio Inc. (FAR) has invited applications for the 2020 – 2021 academic year for the scholarships it administers. Applications must be submitted via the online form. Several questions ask for essay responses. The deadline for initial submissions is April 30, 2020. Applicants may amend their applications
until May 7.
All applicants must hold a valid amateur radio license and be enrolled or accepted for enrollment at an accredited university, college, or technical school. Applicants attending school outside the US must provide a brochure describing the school. Students do not apply for specific scholarships; each application will be considered for all of the scholarships for which the applicant is qualified. QCWA scholarships and the Chichester Memorial Scholarship all require recommendations to be awarded. Data entered onto the application goes directly into an encrypted, password-protected PDF file available only to the review committee. No part of the application is stored online.
More information is available on the FAR website HERE.
+ + +
Marty Edwards AK7ME Appointed Idaho SEC 1/27/2020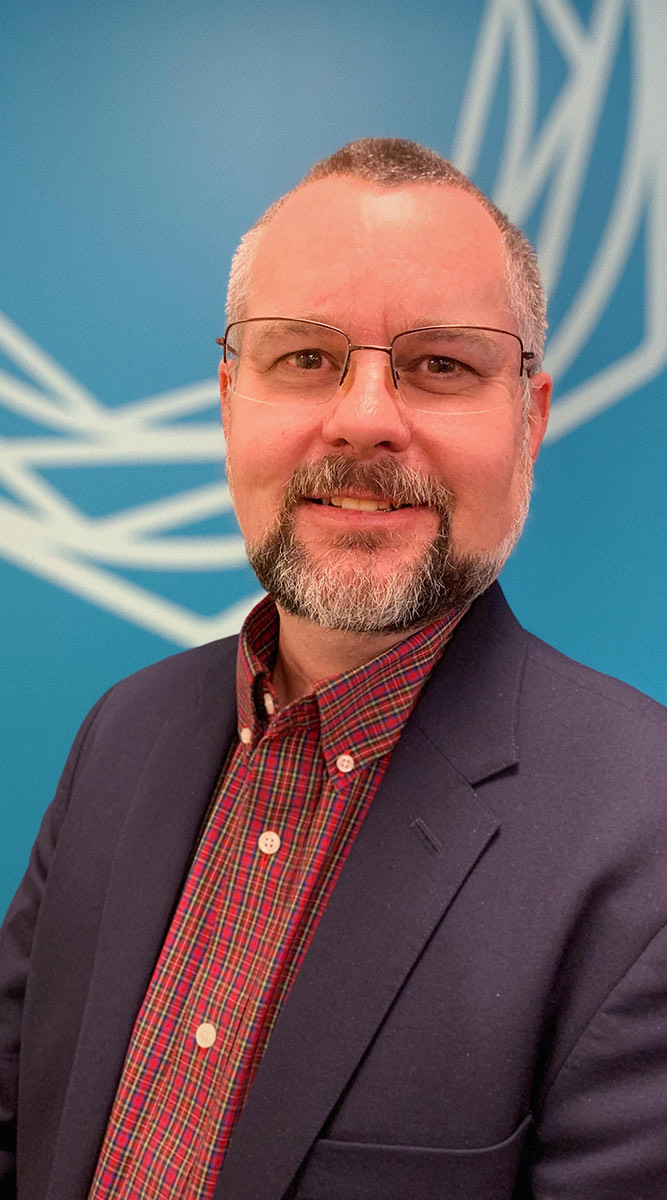 The Idaho Section of ARRL has a new SEC (Section Emergency Coordinator) effective immediately. Marty Edwards, AK7ME, accepted the position this week and it was announced official by Idaho SM, Dan Marler, K7REX. Edwards takes over the responsibility from Rick Briggs, KL7BR will be working with Edwards as an Assistant Section Emergency Coordinator (ASEC). Edwards was previously the SEC under former Idaho SM Ed Stuckey AI7H. Marty Edwards is a globally recognized Operational Technology (OT) and Industrial Control System (ICS) cybersecurity expert who collaborates with industry, government and academia to raise awareness of the growing security risks impacting critical infrastructure and the need to take steps to mitigate them. As Vice President of Operational Technology Security at Tenable, Edwards works with government and industry leaders throughout the world to broaden understanding and implementation of people, process and technology solutions to reduce their overall cyber risk.
+ + +
Barry Shelley, N1VXY, to Become ARRL Interim CEO 01/19/2020
At its meeting this weekend, the ARRL Board of Directors did not elect Howard Michel, WB2ITX, as the ARRL Chief Executive Officer. Beginning Monday, January 20, Barry Shelley, N1VXY, will become interim CEO. Mr. Shelley was ARRL's Chief Financial Officer for 28 years and CEO during 2018 before his retirement. The board has created a search committee to select the next CEO. More details on this and other matters which took place at the board meeting will be released shortly.
+ + +
ARRL DX Advisory Committee is Seeking Comment on Award Criteria, DXCC Annual List
01/06/2020
The ARRL DX Advisory Committee (DXAC) is seeking feedback from members on two items as soon as possible. Email comments to your DXAC representative (list is also linked from the DXAC page).
The first issue involves the question of revising 5-Band DXCC (5BDXCC) requirement to accept contacts on any five band as opposed to the existing requirement of 80, 40, 20, 15, and 10 meters. The DXAC wants to know if this opinion appears to be widely shared, whether it's motivated by the current ebb in the solar cycle, whether it devalues the award, and if it goes against the original intent of the 5BDXCC award. Comments should include "5BDXCC" in the subject line.
The DXCC Annual List documents individuals who have made at least one application in the past year. Use the subject line "DXCC Annual List" when you comment.
Submit comments on both issues by January 10.
http://www.arrl.org/news/arrl-dx-advisory-committee-is-seeking-comment-on-award-criteria-dxcc-annual-list?fbclid=IwAR3MRt7XfD3mpdrMNJQgB7_cfmqrhVlm1-6nfYjpJ66mkklxQyKlr8-iMxA
+ + +
New Repeater on the Air in Southwest Idaho!

In mid-November 2019, a group of hams achieved their multi-year goal of installing a high-altitude repeater on War Eagle Mountain (8051') in southwest Idaho. The repeater operates on 147.040+, (PL 123.0). The repeater is open to all users who abide by standard amateur regulations and courtesy.

Since the 147.240 and 443.600 repeaters (Cinnabar Mountain near Silver City in Owyhee County) have been off the air for several years, this group wanted to restore wide-area communications in southwest Idaho and surrounding areas. Other sites were surveyed but were rejected for various reasons, not the least of which included reliability of operation. The new repeater is on commercial power and hopefully will stay on the air through the brutal winter conditions found on top of War Eagle. When summer 2020 arrives, additional upgrades are planned.

Coverage area hasn't been determined, but the Boise area is covered, and contacts have occurred into Twin Falls (approx. 114 miles), and coverage should be good into northern Nevada and southeastern Oregon.

Some of the ham operators behind this project include:

Larry Smith, W7ZRQ
Steve Nipper, N7DJX
Mike Cooper, W7OSG
Jeff Shinn, N7HQT
Ken Kaae, KE7YD
Bryant Hall, KA7SXV
+ + +



Ada commission encourages uniformity with handheld bans 11/18/2019



The below-linked article was brought to our attention and is a matter all Idaho hams should be aware of. Government ordinances that get passed and enforced in one area tend to get copied in other areas. So it is that we need to stay on top of these things regardless of where in Idaho it occurs.





A ban on the use of handhelds while driving would have a direct effect on our ability to do disaster/emergency communications.





I have asked our ARRL Local Government Liaisons (LGL) for Idaho to get involved with this and I would like to encourage all Idaho hams, clubs and organizations to respond to this as appropriate.



https://www.idahopress.com/news/local/ada-commission-encourages-uniformity-with-handheld-bans/article_c97b250c-1294-5f11-87a9-0692bf8316ed.html



Dan Marler, K7REX




Idaho ARRL Section Manager






Sent 2019-11-18 14:57:11 UTC by Dan Marler (K7REX), Section Manager



+ + +


Discovering Amateur Radio!
View the 32 minute video below introducing you to the world of radio and ham radio.
Don't skip it, you will be glad you watched it till the end!
You may be surprised at all of the ways radio is used in your every day life!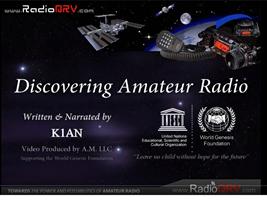 https://youtu.be/ivUMIADFSDw
- Dan
Dan Marler, K7REX
+ + +


This URL
is an eleven minute video of the recent, very successful contact between the International Space Station (ISS) and the Galileo STEM Academy (GSA), Eagle, ID, September 3, 2019. Almost 800 students were present.
Some interesting facts
Call signs: ISS NA1SS, GSA W7GSA
Radio operators: ISS Nick Hague KG5TMV, GSA Tony Baca WV7I
Questions: 20 by 10 students.
Range to ISS at original call: 1500 miles
TNX and 73, 88
Gene Pentecost W4IMT
Ham Team Lead
Galileo STEM Academy
+ + +
08/28/2019

In an effort to more effectively address HF digital technology issues, ARRL President Rick Roderick, K5UR, has reactivated the ARRL Board of Directors' HF Band Planning Committee. The six-member panel, chaired by First Vice President Greg Widin, K0GW, will primarily focus on spectrum allocation issues that have gained increased visibility with discussions on accommodating automatically controlled digital stations (ACDS) — many employing Winlink email. The committee will also discuss operating frequencies for FT4, FT8, and other digital modes. Widin says the committee will meet next week to chart its course. Reactivation of the HF Band Planning Committee came out of discussions during the July 2019 ARRL Board meeting.
"ARRL is not trying to shut down digital communication or shut down Winlink in particular," Widin said, adding that ARRL recognizes Winlink's proven track record in emergency communication. His committee also will consider Winlink supporters' calls for the expansion of the ACDS segments spelled out in §97.221(b) of the amateur rules.
"This is not an easy task by any means," Widin allowed. "They're not making more bandwidth." He said this is especially a problem on 40 meters.
"We're well aware that Winlink is the de facto standard supporting emergency communications in many parts of the country, but we have to figure out how it can operate with other modes, so that everybody can communicate," Widin said, "without having one mode overrun any other mode." The committee will not address data encryption questions at this point, however.
In response to ARRL's 2013 petition to delete the so-called "symbol rate" limit and replace it with a maximum bandwidth for data emissions of 2.8 kHz below 29.7 MHz, the FCC proposed to eliminate symbol rate (baud rate) limitations for data transmissions but declined to propose a bandwidth limitation.
At its July meeting, the ARRL Board of Directors called for ARRL's Washington Counsel to obtain FCC approval for several Part 97 rule changes. The Board asked for a rulemaking petition to remove the current 300 baud rate limitation; authorize all ACDS below 30 MHz, regardless of bandwidth, to operate only within the ACDS bands designated in §97.221(b); require digital stations operating with a bandwidth greater than 500 Hz to operate within the ACDS bands, whether or not automatically controlled, and limit the maximum bandwidth of digital signals below 29 MHz to 2.8 kHz.
ARRL-initiated mediation efforts for rival parties to reach consensus on all or some of the issues raised in the "symbol rate" proceeding ended a few days prior to the July Board meeting. While those discussion were useful, no consensus among parties was reached for FCC consideration. Widin said some positions may have been too divergent to find viable middle ground.

"We still want to change the symbol rate limitation into a bandwidth limitation, which makes a lot more sense in terms of current and future modes," Widin said. The panel also hopes to work with the WSJT-X Development Group to establish FT4 frequencies compatible with existing band plans.
Widin further suggested that his committee will have to look beyond the current landscape of HF digital modes into what might lie ahead.
+ + +
France Stands its Ground on 144 – 146 MHz Aeronautical Mobile Sharing Proposal
08/24/2019

A French "annex" to its proposal to have the Aeronautical Mobile Service (AMS) share 144 – 146 with Amateur Radio doubles down on that country's determination to secure AMS access to that spectrum, although no longer on a primary basis. The annex was submitted ahead of a European Conference of Telecommunications and Postal Administrations (CEPT) Electronic Communications Committee (ECC) Conference Preparatory Group (CPG) meeting that gets under way on August 26 in Turkey. The meeting will consider CEPT ECC positions for World Radiocommunication Conference 2019 this fall. In the annex, France counters contrary International Amateur Radio Union (IARU) assertions and insists that spectrum sharing is possible.
"France recognizes the wide range of amateur applications hosted by the 144 – 146 MHz band," the French annex document said. "The band will remain available for all these applications after WRC-23. However a clear vision of the band segmentation per application and associated occupancy rates will be necessary for the sharing and compatibility studies carried on during the WRC-23 preparation cycle. Such studies are essential for assessing the possibilities of frequency sharing and establishing, where appropriate, the conditions that will ensure the continuity of operation and the protection of existing services."
Since France submitted its initial proposal in June, the IARU and its Region 1 (Europe, Africa, and the Middle East) member-societies have made the matter a top priority. If the French proposal gets a thumbs up by at least 10 CEPT countries at the CPG meeting — with not more than 6 opposing — the proposal could appear on the agendas of WRC-19 and WRC-23, where a final decision will be made.
According to IARU President Tim Ellam, VE6SH/G4HUA, the French proposal provides no rationale for including the amateur band in the proposed spectrum study, and that IARU believes sharing with airborne systems would be extremely challenging and lead to constraints on the development of the Amateur and Amateur Satellite services.
"If accepted as a WRC-23 Agenda Item, this proposal would require 4 years of studies by administrations," Ellam has stressed. "Considering the challenges of sharing spectrum with aeronautical systems, it seems inevitable that the conclusion of such studies would be that sharing with a widely used part of the amateur spectrum presents too many problems to be viable."
In its own submission for the August CPG meeting, IARU contends that basic technical studies "show that sharing of the current Amateur Service allocation with non-safety-related [AMS] radio systems is not possible without a significant likelihood of mutual interference occurring." IARU calls the proposal "unsound."
"There is no need for a lengthy WRC study cycle to determine this," IARU said, asking that 144 – 146 be withdrawn from the French WRC-23 non-safety AMS proposal.
IARU asserts that suitable alternative spectrum exists in the VHF range, but France said this view "disregards the fact that the effectiveness of studied sharing opportunities will depend upon the characteristics of the incumbent services." France went on to say, "Use of techniques like dynamic frequency assignment, antenna treatment, power control, duty cycle control, [and] spread spectrum may be considered."
France said the objective of studies required during the WRC-23 preparation cycle "will not be to modify the existing primary amateur allocation in the band 144 – 146 MHz but to study possible sharing of the band while ensuring the protection of amateur usage."
At this point, the French proposal remains an ITU Region 1 matter, and action during the CEPT CPG meeting August 26 – 30 will determine whether it gains traction on the world stage.
-
Dan
Dan Marler, K7REX
Idaho ARRL Section Manager
208-914-8939
K7REX@arrl.net
+ + +
Below is information from the ARRL regarding the FAA tower registration requirements.
Ham towers will not need to be registered with the FAA if:
• The tower is less than 50' tall,
• The tower is located in a city, or suburb, (i.e., not rural, which is defined as a population greater than 10,000) (fn1),
• The towers is not on agricultural land (i.e., farm, pasture, range), or
• The tower adjacent to house or another building (barn!), or
• The tower is already registered with the FCC (ASR) and FAA has issued a determination of "No Hazard"
+ + +
US THIRD PARTY MESSAGES RULES NOW ARE ENFORCED BY CMS
All,
If you are a US-licensed station that routinely connects to a foreign gateway, or a non-US-licensed station that connects with a US gateway, you may be affected by new CMS behavior. The Winlink CMS now will enforce US Third-Party Message rules.
Because Winlink is being severely criticized for allowing US client and gateway operators to violate US amateur radio third-party traffic rules, we are today starting to test automatic enforcement of these rules. Part 97.3(47), 97.115 and 97.117 apply.
If you attempt to send or receive a third-party message between a US-licensed station and another station the US does not have a third-party communication agreement with, you may receive a service message saying the message will violate the applcable rules and that the message is refused (if you're sending) or being held at the CMS (if you are receiving). Alternative means to successfully send or receive the message will be explained. The US has treaties with most countries in the North and South America, but not most European, Asian and Pacific countries.
If you are a US-licensee, you should have no trouble sending and receiving to/from internet addresses if you connect with another US-licensed gateway, or one licensed in Central or South America — as long as the US has a third-party agreement with the licensing country.
If you are a non-US licensee, you should have no trouble sending and receiving to/from internet addresses if you connect to non-US licensed gateways.
We wish this was not necessary, but we have relied on US client and gateway operators to know the rules and obey them—and most have ignored them, unfortunately for all of us. In order to clean up the violations we are taking these measures to keep US Winlink operators legal. All licensees have an obligation to study, know, and obey the Amateur Radio Rules.
New monitoring and enforcement measures are coming into play with the establishment of a new Volunteer Monitor Program, now being set up by the ARRL at the request of the US FCC. We're doing this to make it easier for US operators to avoid loosing their licenses!
We will be tweaking the behavior of this new mechanism to make it as friendly and informative as it can be. Please bear with us as we make changes.
Thanks and 73,
Lor W3QA
Winlink Development Team
+ + +
Representatives of International Amateur Radio Union (IARU) member-societies in Europe are advising restraint in the wake of a proposal to consider the allocation of 146 – 148 MHz to the Aeronautical Mobile Service (AMS) at World Radiocommunication Conference 2023 (WRC-23). France recently raised the prospect during a European Conference of Postal and Telecommunications Administrations (CEPT) meeting in Prague, held in advance of WRC-19. A WRC-19 agenda item would call for studying a range of frequencies for AMS applications, including 144 – 146 MHz, and a decision could be made at WRC-23.
The French draft resolution seeks studies of possible new AMS primary allocations in several bands in the range from 144 MHz to 22.2 GHz on a primary basis, "while ensuring the protection of existing services in those bands and, as appropriate, adjacent bands, and not constraining future development of these services."
The Radio Society of Great Britain (RSGB) released a statement last week, in part pointing that as proposed, the French resolution "is not an eviction or re-allocation of amateurs, but nonetheless is unwelcome and presents significant challenges. Unlike some other bands where amateurs do share, aeronautical applications are amongst the most difficult due to the altitudes and long free-space distances involved."
Any consideration to allocate additional services in a band that's already allocated on a primary basis to an incumbent service — Amateur Radio, in this case — must begin with a sharing/compatibility study. The IARU has expressed "grave concern" to any proposal that would include 144 – 146 MHz in a WRC agenda item and has pledged to make every effort to fully protect Amateur Radio interests and seek the support of regulators.
At the Prague meeting, only Germany opposed the proposal, which has been carried forward to the higher-level CEPT Conference Preparatory Group (CPG) meeting in August. Support from at least 10 CEPT administrations and fewer than six in opposition would move the issue forward as a CEPT resolution, making it highly likely that it would appear on the agendas of WRC-19 and WRC-23.
In a post to the Moon-Net news group, Deutscher (German) Amateur Radio Club (DARC) Frequency Manager Bernd Mischlewski, DF2ZC, stressed the importance that Amateur Radio speak with a single voice and asked the Amateur Radio community to refrain from contacting individual administrations or the EU.
"This would weaken our position and take away power and vigor from the systematic approach by IARU and country Amateur Radio societies," Mischlewski said. "This particularly applies [to] online petitions." One frantic petition that's collecting both signatures and donations calls on hams to "Stop the 2 Meter Band (144 – 146 MHz) being taken away from Radio Amateurs," which is not what the draft French resolution would do. Mischlewski speculated that the primary reason for the scant opposition at Prague was the revised French proposal's last-minute arrival. "Consequently, most other European countries had no time for internal discussions, let alone formulating their position," Mischlewski said.
With the support of regulatory experts among its member-societies, IARU "is intensively working on executing their influence within the current process and trying to keep the 2-meter band as it is now," Mischlewski said. He pointed out that funding for these activities comes from IARU member-societies. "So, those who left their country's Amateur Radio society should perhaps reconsider their decision," he added. "Without the commitment and the funds, the Amateur Radio community would have little influence in that process, let alone could be present at the relevant meetings."
RSGB VHF Manager John Regnault, G4SWX, in a related Moon-Net post, said the flood of "fake news" on the issue propagated via social media and online petitions does not help Amateur Radio's position.
"All IARU member societies have been briefed on a common position and messages for Amateur Radio," Regnault said. "This message is not helped by the many wrong messages abounding on social media. IARU represents Amateur Radio in the various CEPT forums and ITU, and [it] will fight to maintain the best position it can for Amateur Radio. Progress will be slow, but I am hopeful that, in the end we will get a good result."
+ + +
The following is an exerpt from Mike Ritz, W7VO, ARRL NW Division Director's regular letter to NW Division members concerning the latest news about the competition growing over the 2 meter band.
...if you have been paying attention on the various ham related social media sites, the popular two-meter amateur band is under attack in ITU Region 1, which covers Europe, Africa, and parts of the Middle East. There was a proposal submitted by representatives from France at the June meeting of the European Conference of Postal and Telecommunications Administrations (CEPT) Project Team that would reassign the 144 – 146 MHz band as a primary Aeronautical Mobile Service allocation, with amateur use secondary. Another proposal submitted was one to study interference issues between Europe's Galileo GPS system in the shared 1240 – 1300 MHz (23 cm) band with amateurs, which could result in a reallocation of at least a part of the band. These proposals will very likely become agenda items at the upcoming World Radiocommunication Conference 2023 (WRC-23), and are concerns for us here in ITU Region 2 as well.

As we all know the two-meter band is heavily used throughout the world for short-range communications including the use of repeaters, and heavily used by many emergency communications units. It is also used for
Earth-Moon-Earth (EME) communications on a world-wide basis, and importantly, the two-meter band is one of the most heavily used for amateur satellite operations, which has an exclusive and globally coordinated sub-band at 145.800 – 146 MHz. This includes global communications with the International Space Station (ISS).

The International Amateur Radio Union (IARU) has publically come out against the proposals. (Reference:
https://www.iaru-r1.org/index.php/88-news/1864-wrc-23-agenda-items ), and the ARRL Board will soon be receiving a report from Jay Bellows, K0QB, the ARRL Vice President for International Affairs, who met
recently with several Region 1 IARU members, and leaders for the Radio Society for Great Britian (RSGB), while attending the HAM Radio Friedrichshafen event held in Germany. The ARRL itself has not publically commented on the proposal, other than this press release: ( http://www.arrl.org/news/no-strong-opposition-to-144-146-mhz-reallocation-proposal-at-cept-meeting ). I would expect the ARRL to provide more comments on these proposals following the upcoming annual July Board meeting in Newington.

Mark and I will keep all our Northwestern Division members informed with the latest news as these proposals progress. I also ask that we all refrain from some of the hysteria surrounding the two-meter threat. There are various petitions circulating across social media that will most likely have very little impact on the outcome, and in fact could hamper efforts by involved IARU member societies in their world-wide efforts to defeat these measures. (That request was published by the RSGB). Not to sound like a League commercial, but instead perhaps you could consider a small donation to the ARRL Spectrum Defense Fund. Information on this important effort can be found at: http://www.arrl.org/spectrum-defense-fund.
+ + +
Proposed Canyon County Tower Ordinance 7/3/2019

Don Clower, KA7T, Rod Greene, W7ZRC, Will Baber, WJ9B and I met with Patricia Nilsson, Director and Kate Dahl, Planner III at Canyon County Development Services in Caldwell for about two hours and then proceeded out to Will Baber, WJ9B QTH for a detailed tour of his antenna farm. We provided them with the attached documents, and they viewed the following ARRL video.
https://www.dropbox.com/s/tc6rrgn49njn5o5/What%20is%20Amateur%20Radio%20Video.mp4?dl=0


Will, WJ9B has an impressive antenna farm made up of an assortment of towers and a wide variety of yagi and other antennas; it is perfect for what we needed to show Canyon County. They had never seen an Amateur "ham" Station before and between Will's antenna farm and his impressive shack they now have an idea of who we are and what we do; more importantly, how their Tower Ordinance affects us as hams.

The plan now is for them to rework their Private Tower Ordinance proposal and send a draft to the four of us for review. Once they have a workable final draft, I'll send it out to everyone to review and comment on.

Side note: Since this all started, I have received emails from hams from all over southwestern Idaho and one yesterday from a ham in LA who plans to move to Idaho. My goal is to keep everyone informed and involved as much as possible.
+ + +
Canyon County Proposed Tower Ordinance

After several email and phone call exchanges Don Clower, KA7T, Rod Greene, W7ZRC, Will Baber, WJ9B and I now have 9:00 AM Tuesday, July 2nd set to meet with Canyon County. For sure, we'll be meeting with Tricia Nilsson, Kate Dahl and I am hoping they'll have others, such as an engineer there to meet with us.

Both Don and Rod were part of the Ada County Tower Ordinance planning, and Will has a tower/antenna farm in Canyon County that we'll be visiting for a show and tell after the meeting.
Please keep in mind that Canyon County had reached out to the hams by contacting the VOI Club to present their proposed Private Tower Ordinance.
It is through their efforts and those of the VOI club that this meeting is taking place. Canyon County is open to hear what we have to say. Note that they are also aware that this has caught the attention of hams throughout southwestern Idaho that is now following the results.
I will be keeping everyone informed as this proceeds.
Dan Marler, K7REX
Idaho ARRL Section Manager
208-914-8939

K7REX@arrl.net
+ + +
QuadNet Array News

Last year the QuadNet Array was the hub of activity for Field Day stations across North America to allow demonstrations of D-STAR and DMR digital voice to the general public. The demonstrations proved to be a huge success and included an avenue for non licensed visitors with the help of a licensed control operator to make their first on air contact. We had stations from field day sites in almost every US state as well as all of the Canadian provinces. Stations outside of N
orth America included England, Australia, Italy, France and more.
The QuadNet admin team is extending an invitation to once again use the Array for Field Day 2019. There have been some major improvements to the Array this year. We not only have D-STAR and Brandmeister DMR capability, but we have also added DMR Plus and Yaesu System Fusion to the mix. This allows users of the most popular digital voice modes to talk with one another. We encourage everyone that are planning on having a digital voice station at their field day site to join us on the QuadNet Array. Remember, contacts made on any internet assisted mode do not count for points. However since Field Day is as much about public outreach as it is about the final point total, having a station that allows you to demonstrate all aspects of the hobby to the public is a great way to teach visitors about what we can do.
You can join the QuadNet Array by connecting to one of the following:
D-STAR Reflectors: XRF757A XLX735A XLX307D XLX049D QuadNet Smart Groups: DSTAR1 DSTAR2 DSTAR3 DSTAR4 DMR Plus: Use server IPSC2-QuadNet Talkgroup 320 or reflector 4541 DMR Brandmeister: Talkgroup 31012 Yaesu System Fusion: Reflector 37099 If anyone has any questions you can contact the QuadNet admin team at
admins@openquad.net
73 - Jeff VE6DV

+ + +

Canyon County Wrangles with Proposed Antenna Restrictions

As most of you know, Canyon County is currently reviewing their ordinance that if amended as they've outlined, will affect the construction of ham towers and antennas in that county.



Canyon County reached out to the ham community for comment at the last weeks VOI club meeting that I hope is the beginning of an open dialog with them.


Their representative, Kate Dahl and I have exchanged a couple of emails since that look promising; I should know more next week.

I have suggested a small knowledgeable committee of hams be formed to work with Canyon County, representing our interests; they appear to be open that idea.



Separately, I suggested that Don Clower, KA7T and Richard Dees, W7BOI head up that committee with others to be added. Don has since provided a list of those he would like included in addition to Richard, and he has my total support. I'll let everyone know more about the makeup of that team as soon as the list has been finalized.

In the meantime, I have attached three documents of interest...
Private Tower Ordinance_Draft2 -

Canyon County's most recent Tower Ordinance Draft
Canyon County tower ordinance amending concerns -

A summary list of concerns as laid out by Don Clower, KA7T
11-15-2018-PZ-Minutes -

A copy of Canyon County P&Z minutes dated 11/15/2018 (Take note to New Business- Action Items)
Note: This email is being sent to the Idaho ARRL advisory committee and separately to individuals involved that are not part of the Advisory committee.
I will keep everyone informed throughout this process..
I am requesting your comments, input and suggestions.
Thanks...
+ + +
Below is a follow up by Bob, N7UL from Don Lynn, ND7L "Canyon County is soliciting input from Amateur Radio Licensees regarding establish proper antenna ordinances".
Beware of Possible Antenna Restrictions
---
From Bob Minton, NU7L
, forwarded by Dan Marler, K7REX
As I understand it, Canyon County is considering antenna restrictions. Please make sure amateurs are aware of their rights.
Federal Communications Commission ("FCC") passed a ruling that provides that local governments must reasonably accommodate amateur radio operations
Local authorities may adopt regulations pertaining to placement, screening, or height of antennas, if such regulations are based on health, safety, or aesthetic considerations and reasonably accommodate amateur communications.
Keywords "reasonably accommodate"
This is part of FCC DA 12-1342 adopted 2012 – Full text at
This section:
1. Private land use restrictions. Background. In its 1985 PRB-1 decision, the Commission adopted the policy of limited preemption of state and local regulations governing amateur station facilities, including antennas and support structures.
State and local regulations that operate to preclude amateur communications in their communities are in direct conflict with federal objectives and are preempted
.
Because amateur station communications are only as effective as the antennas employed, regulations that involve placement, screening, or height of amateur radio antennas based on health, safety, or aesthetic considerations must be crafted to reasonably accommodate amateur radio communications, and must represent the "minimum practicable" regulation to accomplish the local authority's legitimate purpose.
The Commission declined to specify any particular height limitation below which a local government may not regulate, or to suggest precise language or procedures that must be contained in local ordinances. Instead, the Commission permitted local authorities to determine in the first instance what constitutes a reasonable accommodation and the minimum practicable regulation based on the authority's legitimate purposes,
State of Idaho - Emergency Communications Preservation Act states basically the same
A lot of this would be further fixed if the ARPA could get passed. Maybe encourage hams to call or write their senators? It has been very close to passing for several years.
Regards
Bob Minton NU7L, ASM Idaho
+ + +
Idaho Governor Brad Little Proclaims 2019 Amateur Radio Week 5/29/2019
Each year the HP Boise Amateur Radio Club applies for a Governors proclamation for the week of Field Day on behalf of the more than 900 Amateur Radio Operators in Idaho. It is an honor and a pleasure to provide this service to Idaho Hams. Recently we received the 2019 Amateur Radio Week proclamation from Governor Little's office. Some of the files are large. I have uploaded three different PDF file versions to a public access folder on Google Drive. The proclamation comes on a legal size paper framed on a light blue border. We have with, and without, border versions available this year.
2019 Proclamation Low Resolution No Border (Legal Size) 98 KB (100,726 bytes)
https://drive.google.com/open?id=12HFKjaf-u4NqpwIKMgU1KCf8hy0ins0p
2019 Proclamation High Resolution With Border, A little over legal size paper. 3 MB (3,146,437 bytes)
https://drive.google.com/open?id=1dbpsyYH--hHJVqSxQuOR0dVAc2aH5Jrq
2019 Proclamation High Resolution No Border (Legal Size) 2 MB (2,336,732 bytes)
https://drive.google.com/open?id=1RuOTLbPVNKrdZCqYaTH9QVtarGNoudyl
73,
Dan, N7DKW
HPBARC PIO
+ + +
LoTW Now Accepting FT4 Contacts 5/23/19
+ + +
ARRL Invites Applications for Volunteer Monitor Positions 05/14/2019
ARRL is now accepting applications from individuals interested in becoming part of the new Volunteer Monitor program, a joint undertaking of ARRL and the FCC. The program seeks volunteers who — working under the direction of ARRL — will monitor and survey the Amateur Radio bands both to detect improper activity and to recognize exemplary on-the-air behavior.
Prospective Volunteer Monitors must be ARRL members. They will undergo a training and certification program administered by ARRL, and will be vetted by ARRL through at least one oral interview and a preliminary evaluation by ARRL staff. Such requirements will continue for Volunteer Monitors once they are selected.
Volunteer Monitors will serve 3-year terms at the pleasure of ARRL, and ARRL will reserve the right to terminate the participation of any Volunteer Monitor for any reason.
Volunteer Monitors must be able to utilize state-of-the-art receiving equipment and to access no-cost remote receive sites, if requested. Applicants must possess strong writing and communication skills and an understanding of the importance of thorough documentation. They must have basic word processing and data entry skills and be able to send such information, including recordings, to ARRL electronically.
Applicants must have no history of warning letters or other enforcement-related action from the FCC, must hold a Technician or higher license class, and must have been licensed for at least 3 years.
Applicants should send applications to volunteer-monitor@arrl.org for processing.
In February, Riley Hollingsworth, K4ZDH, was named to oversee the development and implementation phases of the Volunteer Monitor program, which will replace the Official Observers (OO) program. Hollingsworth once handled Amateur Radio enforcement for the FCC.
http://www.arrl.org/news/view/arrl-invites-applications-for-volunteer-monitor-positions
+ + +
ARRL and FCC Sign Memorandum to Implement New Volunteer Monitor Program 4/16/2019
ARRL and the FCC have signed a Memorandum of Understanding (MOU) that paves the way to implement the new and enhanced Volunteer Monitor program. The memorandum establishes the Volunteer Monitors as a replacement for the Official Observers (OO) program. Current OOs have been encouraged to participate in the new program.
"We are excited by the opportunity to codify our partnership with the FCC and to work together to achieve our mutual interests of protecting the integrity of our Amateur Radio bands," said ARRL President Rick Roderick, K5UR. "This Memorandum of Understanding will serve as the foundation for a new level of partnership on this very important issue."
ARRL has contracted with retired FCC special counsel and former Atlantic Division Vice Director Riley Hollingsworth, K4ZDH, to oversee the ARRL's role in the development and implementation of the Volunteer Monitor program.
Approved by the ARRL Board of Directors at its July 2018 meeting, the new Volunteer Monitor program is a formal agreement between the FCC and ARRL in which volunteers trained and vetted by the ARRL will monitor the airwaves and collect evidence that can be used both to correct misconduct or recognize exemplary on-air operation. Cases of flagrant violations will be referred to the FCC by the ARRL for action in accordance with FCC guidelines.
The intent of this program is to re-energize enforcement efforts in the Amateur Radio bands. It was proposed by the FCC in the wake of several FCC regional office closures and a reduction in field staff.
"Under this program, the FCC will give enforcement priority to cases developed by the Volunteer Monitor program, without the delay of ARRL having to refer cases through the FCC online complaint process," Hollingsworth said.
Hollingsworth has identified three phases to the program: Development, Solicitation and Training, and Implementation.
The Development phase will include drafting a mission statement, clearly defining the ARRL's and FCC's requirements and needs as part of the program, writing a job description for volunteer monitors, and developing a training manual for volunteers.

The Solicitation and Training phase will involve identifying the geographic locations where volunteer monitors will be most needed, soliciting applications and guidance from Section Managers in reviewing applicants. (Those currently volunteering as Official Observers are invited to apply for appointment as Volunteer Monitors.).

The Implementation phase will involve having the volunteers provide field reports to ARRL, with staff offering guidance to volunteers to ensure that the information collected meets requirements for FCC enforcement action.
Hollingsworth has committed to FCC and ARRL officials to ensure the adequacy of training for the new positions, to review the quality and utility of Volunteer Monitor submissions to the FCC for enforcement actions, and to advocate for rapid disposition of cases appropriately submitted to the FCC.
ARRL officials estimate that within 6 to 9 months the first Volunteer Monitors will be in place and ready to begin their duties.
+ + +
The following is from Ed Stuckey (AI7H), ARRL Idaho Section Manager 3/31/2019
---
Fellow ARRL Idaho Members,

Today is my last day on the job as your ARRL Section Manager (SM). It
has been an honor and a privilege to serve in the position over the past
ten years. We have chased off a few dragons during rough times and
thoroughly enjoyed the hobby the entire time. Thanks to everyone who
has assisted me in oh-so-many ways!

Tomorrow (04/01/19), Dan Marler (K7REX), our incoming SM takes over the
reins. Dan and I have been working closely for the past nine months, so
he is now ready to hit the ground running. Please join me in wishing
Dan the best of luck in his new position!

73, Ed Stuckey (AI7H) - your "retiring" SM

+ + +
FCC Agrees to 90-Day Pause in Consideration of WT Docket 16-239 4/6/2019
04/05/2019
It has been almost six years since the ARRL requested the FCC to consider changes to the Amateur digital rules in 11-708 and almost three years since the ARRL filed comments in the resultant proceeding, identified by the FCC as 16-239.

The Commission's proposed changes differed from the ARRL's initial filing and caused the ARRL to be concerned about possible interference to current users resulting from the deletion of the ARRL's requested 2.8 kHz bandwidth limitation. Due to those concerns the League filed comments with the FCC opposing the deletion of the requested bandwidth.

Since the ARRL's initial filing many individuals and groups have commented to the FCC and publicly regarding issues and potential consequences they passionately believe are implicated by the FCC's proposals embodied in 16-239/11-708. Additionally, in the six years since the initial filing of 11-708 new information has been presented by individuals and groups who support and oppose the FCC's proposed adoption of 16-239.

Due to the time that has elapsed since the ARRL's initial digital rules change request, the new information that has become available and the extent of both support and opposition to the proposed rules change, the ARRL asked the FCC to grant a delay in its consideration of the proposed rules change to provide the League the opportunity to clarify the issues and determine whether a consensus can be reached on some or all of the issues raised by the FCC's proceeding.

At the League's request, the FCC Staff has agreed to a 90-day pause in the consideration of WT Docket 16-239.
+ + +
FCC Invites Comments on ARRL Technician Enhancement Proposal
The FCC has invited public comments on ARRL's 2018 Petition for Rule Making, now designated as RM-11828, which asks the FCC to expand HF privileges for Technician licensees to include limited phone privileges on 75, 40, and 15 meters, plus RTTY and digital mode privileges on 80, 40, 15, and 10 meters. Interested parties have 30 days to comment. The Technician enhancement proposals stemmed from the recommendations of the ARRL Board of Directors' Entry-Level License Committee, which explored various initiatives and gauged member opinions in 2016 and 2017.

"This action will enhance the available license operating privileges in what has become the principal entry-level license class in the Amateur Service," ARRL said in its Petition. "It will attract more newcomers to Amateur Radio, it will result in increased retention of licensees who hold Technician Class licenses, and it will provide an improved incentive for entry-level licensees to increase technical self-training and pursue higher license class achievement and development of communications skills."
---
Filing Comments

Those interested posting brief comments on the ARRL Technician Enhancement proposal (RM-11828) using the Electronic Comment Filing System (ECFS) should access FCC Electronic Comment Filing System Express. In the "Proceeding(s)" field, enter the number of the PRM, i.e., RM-11828 (using this format), complete all required fields, and enter comments in the box provided. You may review your post before filing. All information you provide, including name and address, will be publicly available once you post your comment(s). For more information, visit "How to Comment on FCC Proceedings."
---

Specifically, ARRL proposes to provide present and future Technicians with:
Phone privileges at 3.900 to 4.000 MHz, 7.225 to 7.300 MHz, and 21.350 to 21.450 MHz.

RTTY and digital privileges in current Technician allocations on 80, 40, 15, and 10 meters.
The ARRL petition points out the explosion in popularity of various digital modes over the past 2 decades. Under the ARRL plan, the maximum HF power level for Technician operators would remain at 200 W PEP. The few remaining Novice licensees would gain no new privileges under ARRL's proposal.

ARRL's petition points to the need for compelling incentives not only to become a radio amateur in the first place, but then to upgrade and further develop skills. Demographic and technological changes call for a "periodic rebalancing" between those two objectives, ARRL maintained in his proposal. The FCC has not assessed entry-level operating privileges since 2005.

The Entry-Level License Committee offered very specific data- and survey-supported findings about growth in Amateur Radio and its place in the advanced technological demographic, which includes individuals younger than 30. It received significant input from ARRL members via more than 8,000 survey responses. "The Committee's analysis noted that today, Amateur Radio exists among many more modes of communication than it did half a century ago, or even 20 years ago," ARRL said in its petition.

Now numbering some 384,500, Technician licensees comprise more than half of the US Amateur Radio population. ARRL stressed in its petition the urgency of making the license more attractive to newcomers, in part to improve upon science, technology, engineering, and mathematics (STEM) education, "that inescapably accompanies a healthy, growing Amateur Radio Service."

ARRL said its proposal is critical to develop improved operating skills, increasing emergency preparedness participation, improving technical self-training, and boosting overall growth in the Amateur Service, which has remained nearly inert at about 1% per year.

The Entry-Level License Committee determined that the current Technician class question pool already covers far more material than necessary for an entry-level exam to validate expanded privileges. ARRL told the FCC that it would continue to refine examination preparation and training materials aimed at STEM topics, increase outreach and recruitment, work with Amateur Radio clubs, and encourage educational institutions to utilize Amateur Radio in STEM and other experiential learning programs.

http://www.arrl.org/news/view/fcc-invites-comments-on-arrl-technician-enhancement-proposal

+ + +

+ + +

ARRL Audio News 3/08/2019
Click Here

+ + +

ARRL's So Now What Intro - for the newly licensed ham

+ + +

Demand High as New ARRL Introduction to Emergency Communications Courses Open

3/5/2019

The ARRL Lifelong Learning Department has launched a revised and updated Introduction to Emergency Communications (EC-001) course, and demand to sign up is prompting the recruitment of additional course mentors to expand the schedule. Registration just opened for the first of four EC-001 online sessions, which will run from Monday, April 1, until Friday, May 31.

"The demand for this course has exceeded our projections, and the four sessions scheduled for 2019 are already filling quickly," ARRL Lifelong Learning Manager Kris Bickell, K1BIC, said. "This course is designed to be interactive with mentors guiding each session, so we're seeking additional mentors and will schedule more course sessions as quickly as possible. Thanks for your patience as we expand capacity for this updated version of EC-001." Bickell is developing a notification list (scroll down) to alert those who didn't get into the first round of courses when a new round of sessions becomes available.

The new EC-001 course has been beta-tested by course mentors and transferred into a new online learning platform. With the closing last year of the Connecticut Distance Learning Consortium (CTDLC), EC-001 lost its virtual home and was taken offline. At that point the ARRL Emergency Preparedness and Lifelong Learning teams started exploring short- and long-term alternatives to offer the course. After careful evaluation and review, a decision was made to move the course to a more modern learning management system called Canvas, which will be used while the new Lifelong Learning Initiative program is under development. EC-001 will eventually become a part of a comprehensive online learning environment.

"We're very excited to be able to offer Introduction to Emergency Communications EC-001 once again," Bickell said. "The Emergency Preparedness staff here has been incredibly helpful as we've worked together to get the course back up and running. Input from previous EC-001 mentors has been an invaluable part of the testing phase. The timing is right to put the course back online."

EC-001 is designed to provide basic knowledge and tools for emergency communications volunteers. With the online format, students can access the course at anytime from anywhere during the 9-week period and may work at their own pace and on their own schedule. As in the past, students will be able to register and take the course entirely online. The Canvas platform is also mobile-responsive, meaning that students can view the course materials, interact with fellow students, and complete assignments from any mobile device.

"We hope this course will be the starting point for you in your service to your community as radio amateurs and inspire you to think outside the box and look at new and useful ways the radio amateur can lend a hand to the public that has given us the trust of our spectrum of skills," ARRL Assistant Emergency Preparedness Manager Ken Bailey, K1FUG, said.

Individual EC-001 sessions will serve up to 30 students, supported by an experienced mentor. Courses are free of charge. To be eligible, students must meet certain prerequisites, listed on the registration page. The registration page includes the entire 2019 schedule of EC-001 sessions.

+ + +

ARRL Audio News 2/08/2019
Click here for ARRL Audio News

+ + +

ARRL Not Abandoning "Antenna Rights" 2/15/2019

One of many actions taken by the ARRL board of directors at its January meeting (see details in the March issue of CQ) was a decision to "review, reexamine and reappraise" the organization's approach to seeking antenna rights for hams subject to private land use restrictions not covered by the FCC's partial pre-emption of state and local laws regarding antenna structures. That decision included asking Congressional sponsors of the Amateur Radio Parity Act not to try to move the bill to a vote for now, and withdrawing a petition asking the FCC to incorporate provisions of the Parity Act in the amateur radio rules.


"The board wants to make clear," it said in a statement, "that this pause is not, and should not be interpreted as, an abandonment of its efforts to obtain relief from private land-use restrictions," adding that it intends "to renew, continue and strengthen the ARRL's efforts to achieve relief from such restrictions."

+ + +

US Navy Explores Amateur Radio as a Training Adjunct

02/13/2019

The US Navy's Naval Air Warfare Center Weapons Division (NAWCWD) has adopted Amateur Radio training as a possible new approach to basic RF and electronics instruction. More than 20 NAWCWD employees took part in a week-long class in Point Mugu, California, in December. The class, which culminated in an examination session for the Technician licensed, offered NAWCWD employees a novel approach to teaching radio propagation, said Brian Hill, KF4CAM, the lead for electromagnetic maneuver warfare experimentation in the Avionics, Sensors and E*Warfare Department. Hill, who got his license while he was still in high school, is also the department's "innovation ambassador."

"I looked at the breakdown of current new hires and saw that many had degrees in computer science and thought that their classwork might not have covered things like RF propagation," Hill said. Rather than have employees sit through hours of PowerPoint briefings, Hill thought that a licensing course might be a more dynamic, hands-on approach to convey the basics — and cover areas such as directional antennas, signal propagation, and modulation that are necessary for their work.

Initially, Hill had 10 class slots funded, but then Target Design Engineering Branch Head Ian Mann, KI6YVO, got wind of the class, saw its potential, and helped get funding to expand participation. Mann, a General-class licensee and a ham for nearly 10 years, said he's been able to apply knowledge learned in the class to his NAWCWD work.

Target Systems Division head Milton Gabaldon, also saw merit in the approach. He sat in on the classes, took the exam, and he's now KM6YPA. For him, it's about connecting the dots.

"It's about introducing people to electronics, to start understanding what RF is all about …so when we talk about it in the test and evaluation world, [students] know what we're talking about," Gabaldon said. "They get a better view than 'I just do software.' Now they see 'My software controls this piece, which sends out RF jamming signals that protect the warfighter.' That's the most important takeaway."

In all, 23 employees who took the Technician exam passed, and several also successfully tested at for General and Amateur Extra licenses. Hill hopes to offer more hands-on classes in the future, and he's planning a Fox Hunt for the near future, as additional hands-on training. — Thanks to NAWCD and Public Affairs Officer Kimberly Brown; some information from C4ISRNet

+ + +
Reprinted with permission,   March 2019 QST; copyright ARRL.
Second Century -Toward A More Secure Future
Howard E. Michel, WB2ITX, ARRL Chief Executive Officer, hmichel@arrl.org
Four years ago, when I was President of IEEE, I wrote an editorial called "Toward more secure future." It started: "History is littered with companies that did almost everything right, but nevertheless failed. Some of these organizations did not understand what their business was, or should have been." I went on to say, "Companies like Eastman Kodak and Polaroid thought they were in the film business. They were in the business of capturing and preserving images. They ignored potentially disruptive innovations that would render their traditional film businesses obsolete."

I believe that ARRL is in a situation similar to what transpired at Kodak and Polaroid.We are at a crossroads, and we need to look seriously at what we are and what we do.

In my January 2019 "Second Century" column, I talked about ARRL as a membership association, a business, and a public charity. All three of these entities must remain in balance for ARRL to function effectively. In order to begin to understand what this balance might require, let's take a closer look at ARRLs businesses. ARRL must be forward-looking.There are startups innovating in our space, whether that is publishing, membership, or advocacy. We must be ahead of them.We must invest in the future, while sustaining current operations and supporting our members.We must reuse and repurpose content, integrate it with a broad spectrum of external information, and deliver it in individualized and appropriate ways that engage everyone interested in Amateur Radio, and match the expectations people have today when they consume information.

ARRL is a publisher, receiving revenue from the sale of books and magazines. ARRL receives additional revenue from advertising, membership dues, awards, and our VEC
program. Revenue they generate funds and supports the taxexempt purpose for which ARRL was created, and supports our five pillars: Public Service, Advocacy, Education, Technology, and Membership. But are these the right businesses for our second century?

ARRL is not just QST\ the Handbook, DXCC, or the VEC program. We can't allow ourselves to continue to think within those traditional parameters. If we abstract from our current lines of operations and consider our core purpose as defined in our Articles of Association, we are members, volunteers, and staff creating information and building relationships— creating value; disseminating information and building organizations— using value; and advocating to advance the art and science of Amateur Radio.We are about relationships and information.


We are not about publishing books, for example, but about creating, curating, and disseminating information about Amateur Radio. Creation could happen by hiring a professional author to write text. Curation could involve staff and volunteers repurposing locally developed content. Dissemination could involve traditional publishing, but also creating a video, a series of magazine articles, or a presentation that a local club could use. Membership is not about getting hams to join ARRL; it is about engaging members and having them engage others. Every member should have an elevator speech—a 30-second talk to give to a complete novice—on what Amateur Radio means to them.Every member should find value in his or her unique form of engagement with ARRL. Should membership be redefined, not as having a membership card, but instead as having a level of engagement?


We have local club meetings and hamfests—face-to-face events that are periodic in nature. People have been gathering in their communities for eons. But today people are busy, and fixed agendas might not be convenient. And the definition of "community" is changing. People are communicating 24/7, 365 days a year around the globe. Are episodic face-to-face meetings becoming obsolete in the internet age? How can we engage local members when "local" is defined virtually?

For ARRL to remain relevant to Amateur Radio, it must evolve. That evolution, while it must be swift, can't be haphazard. Instead, there must be a comprehensive vision of what ARRL is as a community, and what we wish to be in the future. I encourage your comments to me at wb2itx@arrl.org.

+ + +

Letter to the NW Division ARRL from Mike Ritz, W7VO, NW Division Director 2/12/19

First of all, I want to thank members of the ARRL Northwestern Division for the support you have shown Mark and myself in the month since we were sworn in as your new representatives on the ARRL Board of Directors. It's been a very busy January, and so far, February is just as busy!

On February 2nd Monte Simpson, AF7PQ, Western Washington Section Manager, Jim Fenstermaker, K9JF, ARRL Honorary Vice President, and I attended the Clark County Amateur Radio Club's (CCARC) annual Awards Banquet. The CCARC certainly sets the standard as a very active club, and it was quite a memorable night!

On February 7th, Monte and I attended the FEMA Washington Emergency Communications Coordination Working Group conference in Vancouver, WA.
The focus of the conference was on past and potential Northwest volcanic activities, and the special challenges they present for emergency communications. In addition, Jim McCabe, AE7UQ, presented a seminar highlighting lessons learned from the Whatcom County, WA, Mt. Baker SET Exercise, and Scott Burrows, N7DOD, did a great presentation on HamWAN technology, complete with a live demonstration. Members of the Clark County ARES program manned a booth demonstrating Winlink and packet digital communications for those interested, (which were quite a few!)

Work has already begun on our new Northwestern Division website:
www.arrldiv.org. Right now there is only a temporary holding page in place, but the team is working diligently to generate content. The goal is to have the most interactive Division website in the ARRL, and we're off to a good start! My sincere thanks go to Michael Sterba, KG7HQ, who volunteered to be project leader and webmaster.

Some highlights on actions from the January ARRL Board Meeting:

• The controversial ARRL Policy on Board Governance and Conduct of
Members of the Board of Directors and Vice Directors was fully rescinded.

• The Amateur Radio Parity Act was officially put on hold in Congress,
and pulled back from the FCC in order to review, reexamine, and reappraise the efforts.

• The Board approved release of the ARES Plan from the Public Service
Enhancement Working Group.

• The 2018 Bill Leonard, W2SKE, Professional Media Awards for Print
Reporting was bestowed upon Tom Knapp, and LNP Media Group Inc., for its covering operations of the W3RRR and the Red Rose Repeater Association Field Day, 2018, and to Andrew Schmertz and NJTV for its outstanding coverage of the February 23-24, HamSCI Conference at NJIT.

There was a big focus on education issues:

• It was reported that over $132,000 worth of scholarships were
awarded in 2018 by the ARRL Foundation.

• A new Board committee was formed to develop an interactive
relationship with the Amateur Radio on the International Space Station
(ARISS) program and the ARRL. (As Mark reports below, he is a member of this new committee.)

• The Board authorized funding for the development of life-long
learning strategies and programs designed to attract and retain members, and capture newly licensed amateurs.

During the Board meeting I was elected to be a member of the ARRL Foundation Board of Directors for a two year term, and was appointed to serve on the ARRL Board's Programs and Services committee.

As an aside, I also want to let Division club program leaders know that I have put together a 30 minute PowerPoint presentation entitled "Behind the Curtain: Inside the ARRL Boardroom", where I show attendees what actually happens during an ARRL Board meeting, how it's organized, and the special role that Vice Directors play in the process.
It's quite the affair! If your club is interested in this program, please send me an e-mail and I'll get you scheduled in.

Upcoming events for 2019:

(If your club has something special planned this year, let Mark or myself know and we'll publish it in the next newsletter!)

Feb 16 Salem Hamfair @ Polk County Fairgrounds, Rickreall, OR
Mar 9 Mike and Key Swap Meet, Puyallup, WA
Mar 23 MicroHAM Digital Conference, Redmond, WA
April 13-14 EmComm Communications Academy, Seattle, WA April 12-14 International DX Convention, Visalia, CA
April 13 Yakima Amateur Radio Club Hamfest, Yakima, WA
April 27 ARRL Idaho State Convention (still in the planning
stages)
May 11 SCARC Electronic Flea Market and Hamfest, Stanwood, WA
May 17-19 ARRL National Convention, Dayton, OH
May 31-June 2 ARRL NW Division Convention, SeaPac, Seaside, OR
July 18-21 Glacier Waterton Hamfest, Essex, MT
Aug 9-11 Pacific NW DX Convention, Everett, WA
Sept 28 ARRL WA State Convention, Spokane, WA
Oct 12 KCARC Hamfest, Bremerton, WA

I plan on attending as many of these as I can!

Note: At SeaPac I'll be presenting my "The Storied History of the Ham Radio Callsign" seminar, and hosting the ARRL Forum (both on
Saturday.)

I hope to meet as many of you as I can at Rickreall next weekend!

ARRL Northwestern Division
Director: Michael T Ritz, W7VO
w7vo@arrl.org

+ + +

FCC Invites Comments on Amateur Radio-Related Petition for Rule Making 2/11/2019

The FCC has invited public comments on a Petition for Rule Making (RM-11826) from an Ohio radio amateur seeking to amend the Part 97 station identification rules to better accommodate and simplify station identification during an emergency net, drill, or activation. ARRL member Robert A. Dukish, KK8DX, filed the petition in December, and the FCC put it on public notice this week. Dukish seeks a change to Section 97.119(a) of the rules, which requires an amateur station to transmit its "assigned call sign on its transmitting channel at the end of each communication, and at least every 10 minutes during a communication."

He noted that during emergency networks, requiring participating stations — often portable — to use their assigned call signs during each transmission could prove "burdensome and can hinder the flow of emergency traffic on the channel."

Specifically, he is suggesting that a simple approach would be to permit the net control station or other designated participant to announce from a single point the call signs of every station taking part in the net or exercise, when tactical call signs often are in use, at 10-minute intervals, using automatic CW identification.

Dukish suggested amending Section 97.119(a) to add, "except during a local emergency network activation or drill," and providing that in such situations, a net control or designations station would be "authorized to announce all participating stations' assigned call signs at no more than 10-minute intervals while the net is in progress." The amendment would provide that participating stations "be within a 50-mile distance of the identifying station, and each individual station must self-identify by transmitting its assigned call sign at least once per hour." CW transmission could be no faster than 25 WPM if sent automatically to satisfy the suggested amendment.

In his petition, Dukish noted petitions filed in 2005 and 2006 seeking changes to the Amateur Radio station identification rules. The FCC did not adopt either proposal.

Interested parties may comment via the FCC Electronic Comment Filing Service (ECFS). https://www.fcc.gov/ecfs/

+ + +

K7REX Assumes Acting Idaho Section Manager Position 2/10/19

Ed Stuckey, AI7H, Section Manager for Idaho has asked me (Dan Marler,
K7REX) to take over as Acting ARRL Idaho Section Manager (SM).

Ed's wife had a mini-stroke. She already had health issues, and this most recent situation has made it quite hectic for him to manage everything. She is now back home, but it's pretty much a 24/7 job and clear that he'll be needing assistance.

As many of you know, Ed has been Idaho's SM for the past ten years and had decided not to run again so that he could spend more time tending to his wife's needs; this recent change of events has amplified that situation.

I am currently Idaho's ARRL Section Manager Elect and will be taking the SM position officially on April 1st. Ed is still Idaho's SM, and I'll be keeping Ed informed and in the loop on all Idaho ARRL activities, but for all practical purposes I will now be taking on the responsibilities of Idaho's ARRL Section Manager.

I look forward to working with each one of you; together we can accomplish a great deal. Please feel free to contact me anytime.

Note: Check out our new Idaho ARRL website https://idahoarrl.info/index.html

Best of 73's

Dan Marler, K7REX

Idaho ARRL Section Manager Elect
Acting Idaho ARRL Section Manager

+ + +

ARISS-US Comes to Idaho 2/7/2019

February 5, 2019- The ARISS-US Team (Amateur Radio on the International Space Station) is pleased to announce schools or organizations submitting proposals have been selected to advance to the next stage of planning to host amateur radio contacts from July to December 2019. The contacts will be with International Space Station (ISS) crew members using the ARISS equipment on the ISS. A review team of teachers from the ARISS-US Education Committee selected proposals after the recent proposal window closed. The groups will go forward to Phase 2, developing an amateur radio equipment plan to host a scheduled ARISS contact.


ARISS's primary goal is to engage people in science, technology, engineering, and math (STEM) activities, and involve them in pursuits related to space exploration, amateur radio, communications, and associated areas of study and career options. After a recent ARISS contact, Joanne Michael, KM6BWB, at Meadows Elementary School in Manhattan Beach, CA, stated, "ARISS is such an incredible opportunity for students to gain a once-in-a-lifetime experience and real-world skills that they can use the rest of their lives. What a wonderful program!"

ARISS anticipates that NASA will be able to provide scheduling opportunities for these US host organizations. The candidates must now complete an equipment plan that demonstrates their ability to execute the ham radio contact. Once their equipment plan is approved by the ARISS technical team, the final selected schools / organizations will be scheduled as their availability and flexibility match up with the scheduling opportunities.

Phase 1 was supported by a team of local amateurs: John Kernkamp, WB4YJT, Lisa Nelson, AK7WS, Stephen Nipper, N7DJX, and Gene Pentecost, W4IMT. With support from the local ham community, they will lead the Phase 2 activity required to demonstrate readiness for the ISS contact.

+ + +

ARRL Board of Directors Tackles Ambitious Agenda

1/31/2019

A demanding agenda faced the ARRL Board of Directors when it convened for its annual meeting January 18 – 19 in Windsor, Connecticut. President Rick Roderick, K5UR, chaired the session. Several new faces were around the table, with four newly elected ARRL Directors, one newly elected Vice Director, and one recently appointed Vice Director. Attending for their first meeting as Board members were Hudson Division Director Ria Jairam, N2RJ; New England Division Director Fred Hopengarten, K1VR; Northwestern Division Director Mike Ritz, W7VO, and Roanoke Division Director George "Bud" Hippisley, W2RU. Also present were Northwestern Division Vice Director Mark Tharp, KB7HDX, and Rocky Mountain Division Vice Director Robert Wareham, N0ESQ, who was appointed last fall to fill a vacancy.

On a voice vote, the Board authorized $485,000 to fund a project, carried out by Connecticut media and advertising consultants Mintz & Hoke, to develop lifelong learning strategies and programs aimed at attracting and retaining ARRL members, especially newly licensed radio amateurs.

"Our focus is on expanding the reach of ARRL by providing instructional materials to Amateur Radio operators who have a wide range of interests and experience levels," ARRL Lifelong Learning Manager Kris Bickell, K1BIC, remarked this week. The program will offer a modern, user-friendly educational environment with various learning paths, such as getting on the air, public service, technological experimentation, and advanced operating and technical tips, Bickell said.

The Board adopted an ARES Plan as recommended by the Programs and Services Committee. Committee Chair Dale Williams, WA8EFK, said the ARES Plan will establish training programs and three levels of ARES membership. It also revises ARES appointment definitions and designates the Emergency Coordinator (EC) as the lead person in local activations. Section and District Emergency Coordinators will serve as resources.

The Board also established an EmComm Manager Requirements Committee, charged with setting the requirements for ARRL's Emergency Preparedness and Response Manager function.

The Board received the report of ARRL CEO Howard Michel, WB2ITX, who outlined plans to reorganize and refocus the activities at ARRL Headquarters. Michel said providing better value to membership is a top priority, and he sees value creation and value delivery as key components to long-term membership retention and growth.

Addressing an ARRL governance issue, the Board repealed the ARRL Policy on Board Governance and Conduct of Members of the Board of Directors and Vice Directors, commonly known as the "Code of Conduct," on an 11-3 vote with one abstention.

The Board voted unanimously to create a Legal Structure Review Committee to study and make recommendations to update ARRL's legal structure "to reflect ARRL's current operational needs."

The Board created a permanent Amateur Radio on the International Space Station (ARISS) Committee "to develop an interactive relationship" with ARISS, which sponsors voice contacts between ISS crew members and school groups and gatherings on Earth, "bringing together STEM program objectives and local Amateur Radio groups." The Board motion said ARISS "has demonstrated very positive public relations benefits to the ARRL, and that it's ARRL's best interests to support ARISS."

"ARRL has sponsored ARISS since its infancy in 1996, while important ISS modules were still being built," said ARISS-US Delegate for ARRL Rosalie White, K1STO. "I'm quite pleased that ARRL and ARISS will work even more closely to pull together STEM objectives and ham radio groups. Thank you to ARRL for its compliments on the good PR the program generates."

The ad hoc Logbook of The World (LoTW) Committee was elevated to permanent status, reporting to the ARRL Administration and Finance Committee.

As already announced, the Board withdrew, without prejudice to refiling, ARRL's December 18, 2018, Petition for Rule Making to the FCC, which sought to amend the Part 97 Amateur Service rules to incorporate the provisions of the Amateur Radio Parity Act (ARPA). The Board said that ARRL needs to "review, re-examine, and reappraise ARRL's regulatory and legislative policy with regard to private land use restrictions."

In other business, the Board:
received the report of ARRL Treasurer Rick Niswander, K7GM, on ARRL's investments for 2018. He said ARRL's portfolio recorded a small loss for the year, "consistent with market-derived expectations."

heard from Chief Financial Officer Diane Middleton, W2DLM, who reported that "a financially strong balance sheet generated a larger-than-expected gain from operations for 2018." Cash flow also continued to be favorable.

received the report of EMC Committee chair Kermit Carlson, W9XA, who told the Board his panel is working to raise awareness of a variety of issues stemming from major technological advances, such as wireless power transfer systems for charging electric vehicles. Carlson said that while new systems need spectrum, protection of other bands for other services is necessary. He invited the Board's vigilance in alerting the EMC Committee to potential concerns.

affirmed its support of the National Traffic System and all amateurs involved in traffic handling, and their role as partners to ARES in ARRL's public service tool kit.

considered recommendations of the Administration and Finance Committee and adopted the ARRL 2019 – 2020 Plan.

elevated past New England Division Director Tom Frenaye, K1KI, to Director Emeritus, commending him for his more than 30 years of service to Amateur Radio "as a leader in his community, ARRL Division, and nationwide." Since 1975, Frenaye has served as an ARRL employee, Director, and Vice President, and as President of the ARRL Foundation.

elevated retiring West Gulf Director Dr. David Woolweaver, K5RAV, to ARRL Honorary Vice President, in recognition of "providing outstanding leadership" throughout his 19 continuous years as a Vice Director and Director.

directed the ARRL Secretary to cast ballots in support of the re-election of IARU President Timothy Ellam, VE6SH, and IARU Vice President Ole Garpestad, LA2RR, for additional 5-year terms.

received greetings from IARU Secretary David Sumner, K1ZZ, on behalf of IARU President Tim Ellam, VE6SH, and from Radio Amateurs of Canada President Glenn MacDonell, VE3XRA.
http://www.arrl.org/news/view/arrl-board-of-directors-tackles-ambitious-agenda

+ + +

The FCC is Back in Business

1/29/2019


[UPDATED: 2019-01-29 @ 2115 UTC] In the wake of the more-than-month-long partial government shutdown, the FCC said today that it would be tackling the backlog of applications already in the queue over the course of a couple days. The FCC had earlier indicated that it would resume processing Amateur Radio applications starting today. Subsequently, the Commission requested that the ARRL Volunteer Examiner Coordinator (VEC) give the agency time to work through its already-pending backlog, before ARRL VEC submit any additional new files. Information released before the shutdown said the FCC would take the first day it was open, which was Monday, January 28, to get idle systems up and running again.

"The FCC has resumed all operations since the partial funding lapse has ended," the FCC said via Twitter on Monday.

The ARRL VEC now is awaiting word that it can transmit the some 2,300 pending Amateur Radio applications it has in the queue, many of them from 325 ARRL VEC examination sessions that took place during the shutdown or immediately prior to it. These do not include files that the other 13 VECs may be waiting to upload to the Universal Licensing System (ULS). ARRL VEC Manager Maria Somma, AB1FM, said the ARRL VEC won't send all its pending files until it's sure the system is working properly.

"We had some files already pending in their system, and then also uploaded a few new files into their system today to see if anything is happening yet," she said earlier. Once the FCC gives the okay, "we are sending all of our files!" Somma said.

In a January 28 Public Notice addressing filing deadlines, the FCC pointed out that its filing window, mail operations, and electronic filing systems have been unavailable or unsupported during the partial shutdown, "except for filings necessary for the protection of life and property and filings related to spectrum auction activities."

The FCC had announced in early January that all filings that would have been due during the suspension of operations, including applications to the ULS, would become due on the business day following the resumption of normal operations, January 29. "If the Commission is unable to restore electronic filing systems on the day the government reopens, the Commission may issue another Public Notice further extending filing deadlines." The January 28 Public Notice said the Commission now is extending those deadlines by 1 day. "Thus, deadlines for all filings that would have been due from January 3 through January 29 are now extended until January 30, 2019," the FCC said.

If an Amateur Radio license recently had expired or was about to expire before the shutdown, the licensee could apply for license renewal via the ULS and continue to operate while the FCC was closed, with the filed application remaining in limbo. Licensees who waited until the FCC reopened to apply will have 2 days to submit a renewal application before the license is considered to have expired in the FCC database.

The resumption of normal FCC operations means the FCC's January 30 open meeting will be an in-person session. The Commission had made provisions for a teleconference should the shutdown not be over by the meeting date. The FCC said, however, that due to the funding lapse, items initially included in the tentative agenda published on January 3 would not be considered at this week's meeting, which would address only "Commission announcements."

http://www.arrl.org/news/view/the-fcc-is-back-in-business

+ + +

ARRL Board of Directors Issues Statement on Amateur Radio Parity Act

01/24/2019

At its annual meeting January 18 – 19, the ARRL Board of Directors decided that the organization needs to "review, re-examine, and reappraise ARRL's regulatory and legislative policy with regard to private land use restrictions."

In order to effectively undertake such a review, the Board adopted a resolution to withdraw its December 18 Petition for Rule Making to the FCC, which sought to amend the Part 97 Amateur Service rules to incorporate the provisions of the Amateur Radio Parity Act (ARPA), without prejudice to refiling. The resolution also is asking members of Congress who had refiled legislation to enact the Amateur Radio Parity Act (ARPA) to refrain from seeking to advance that legislation pending further input from the ARRL.

Board members noted that the ARRL has been pursuing adoption of the ARPA for the past several years, and that objective has not yet been achieved. While everyone understands that getting Congressional approval on any matter can be a lengthy process, the difficulties getting the ARPA approved has been a source of frustration to the organization and its members. A majority of the Board now believes that there is a need to reassess the organization's approach to this issue.

The Board wants to make clear to its members, and to those whose policies and conduct prevent or impair the right of US Amateur Radio operators to operate from their homes, that this pause is not, and should not be interpreted as an abandonment of its efforts to obtain relief from private land-use restrictions. The Board noted that its intent is "to renew, continue and strengthen the ARRL's effort to achieve relief from such restrictions." This action represents a chance to get the best product possible for all US Amateur Radio operators.

The Board expressed its sincere appreciation to the thousands of ARRL members who took the time to contact their representatives in Congress to urge them to support the Amateur Radio Parity Act. The Board also offered its thanks to those members of Congress who have consistently and continuously supported the rights of US Amateur Radio operators.

http://www.arrl.org/news/view/arrl-board-of-directors-issues-statement-on-amateur-radio-parity-act

+ + +

Amateur Radio Applications Piling Up as Partial Government Shutdown Continues

01/23/2019

Volunteer Examiner Coordinators across the US are continuing to receive paperwork from Amateur Radio exam sessions held during the partial government shutdown. While it's still possible to access the Universal Licensing System (ULS) and file applications, the FCC is not processing individual, club, and exam session — new and upgrade — Amateur Radio applications. The FCC closed most operations on January 3, when available funding ran out. According to the FCC public notice, aside from a few emergency and auction-filing systems, all other Commission electronic filing systems will be unavailable to the public until normal agency operations resume.

"Nothing's moving until the FCC reopens," said ARRL VEC Manager Maria Somma, AB1FM. "ARRL VEC continues to enter exam session, individual, and club license data into the system while we wait for the FCC to reopen and normal agency operations to resume. We have approximately 1,600 applications and 125 exam sessions waiting in the queue to be processed. Everything's in there ready to go."

Somma stressed that, although license upgrade applications are still on hold, current FCC Amateur Radio licensees who have successfully upgraded and hold a Certificate of Successful Completion of Examination (CSCE) may operate temporarily using the privileges of their new license class, until their new licenses are granted.

Even though it's not possible for the FCC to grant a new license, a license upgrade, a change of address or other modification, or a vanity call sign application, the Commission Registration System (CORES) remains functional to allow critical radio services to obtain FRNs and file applications during the shutdown. Registering a user name and logging into CORES is required to apply for and receive an FCC Registration Number (FRN). An FRN is a unique 10-digit identifier necessary to conduct business with the FCC and to manage existing FRNs. The FCC said that starting in March, users who already have an FRN from the legacy Commission Registration System will need to create a user name to continue managing their FRNs.

If an Amateur Radio license recently has expired or is about to expire, the licensee can apply for license renewal via the ULS and continue to operate while the FCC is closed. The filed application will remain in limbo until the FCC is back to work. Licensee who wait until the FCC reopens to apply then will have 2 days to submit a renewal application before the license is considered to have expired in the FCC database.

The FCC has said it would not automatically extend deadlines in cases where the license has expired and the 2-year grace period has expired, but said it would "consider whether it is appropriate to do so once normal operations resume."

http://www.arrl.org/news/view/amateur-radio-applications-piling-up-as-partial-government-shutdown-continues

+ + +

FCC Reactivating Equipment Authorization System

1/22/2019

The FCC says it will reactivate its Equipment Authorization System (EAS), which had been unavailable since the FCC ran out of funds on January 3 because of the partial government shutdown that began a month ago. RF devices, including most Amateur Radio equipment, must be properly authorized before being marketed or imported into the US. The FCC Office of Engineering and Technology (OET) administers the equipment authorization program.

"After reviewing our statutory authority, the status of contract obligations, and our lapse in funding plan, we will be reactivating this system today," the FCC said in a January 18 public notice. "Most radio transmitters are required to be certificated to ensure compliance with the Commission's technical rules."

Certification applications are reviewed and granted by private-sector Telecommunications Certification Bodies (TCBs), which must enter the application and grant of equipment certification into the EAS before the grant becomes effective.

"The reactivation of the EAS will enable the TCBs to grant equipment certifications, thereby allowing that equipment to be imported and marketed in the United States," the FCC said. "While the EAS will be available to the public, no support will be provided by Commission staff."

There are some exceptions. TCBs are required to consult with FCC staff before granting certification for certain products under a procedure called Pre-Approval Guidance (PAG). "This procedure generally involves products where the required tests are complex or break new ground," the FCC said. "TCBs will continue to be unable to grant equipment certification for products subject to the pre-approval guidance procedure until the FCC resumes normal operations and staff is available for consultation."

http://www.arrl.org/news/view/fcc-reactivating-equipment-authorization-system

+ + +

Court Rules Excessive Antenna Application Fees Violated Reasonable Accommodation 1/15/2019

Long-pending Amateur Radio antenna litigation that ARRL helped to fund has finally borne fruit. The Supreme Court of the State of New York, Appellate Division: Second Judicial Department has ruled in the case of Myles Landstein, N2EHG, that the Town of LaGrange, New York, not only overstepped its state-granted authority by assessing excessive fees, but violated the limited federal preemption PRB-1 in the process. PRB-1 requires municipalities and states to "reasonably" accommodate Amateur Radio antennas and to apply the "minimum practicable regulation" in handling Amateur Radio antenna applications. The ruling is slated to be published as a case decision. Landstein had wanted to erect a 70-foot antenna support structure; the Town of LaGrange has a 35-foot height limit.

"This case, which goes back to 2013, was about applying PRB-1 to a situation in which a municipality attempted to thwart the installation and maintenance of ham radio antennas by imposing excessive permit application costs on the ham applicant," said communications attorney Chris Imlay, W3KD, who is familar with the case. Imlay said the FCC has refused to clarify the cost-prohibition issue as it relates to PRB-1's "minimum practicable regulation" and reasonable accommodation provisions of PRB-1.

"The Town incurred more than $17,000 in legal consulting fees in connection with [Landstein's] applications, and informed the petitioner that he was required to reimburse the Town for these fees before any determination would be made with respect to the applications," the court decision recounted. "The Town subsequently, as 'an accommodation to the petitioner,' reduced the amount…to…$5,874, but also required the petitioner to maintain a minimum advance continuing escrow balance of at least $1,000 to cover the Town's future consulting costs…"

"We hold that, because the Town did not limit the consulting fees charged to the petitioner to those necessary to the decision-making function of the town's Planning Board and Zoning Board of Appeals, the town exceeded its state-granted authority by requiring payment of the consulting fees and, moreover, violated a rule promulgated by the [FCC]," the court concluded.

Given the significant delay, Imlay said both he and Landstein had lost hope that the case would ever be resolved in Landstein's favor — and in the favor of radio amateurs in New York, generally — much less be a case that would "create favorable precedent for Amateur Radio."

"ARRL originally was drawn to this case, because New York is the only state that, due to a very old case decision, has held that Amateur Radio antennas are not necessarily a "normal accessory use" to residential real property," Imlay explained. "Because the issue in the case dealt with both that issue and the issue of cost prohibitions in the permitting process relative to the cost of the antenna installation, we decided to fund the case." Landstein lost at trial, and an appeal was filed in about 2015, for which ARRL provided memoranda of law about the cost-prohibition issue. "The antenna at issue and the support structure was to cost no more than $1,000," Imlay said.

The court concluded that the town "may not use its land-use regulatory authority to construct 'hoop after hoop' for the petitioner to jump through in order to erect his radio antenna tower [and] cannot impose unreasonable expenses so as to create an insurmountable financial barrier to the pursuit of the project. In this context, not only must the consultant fees be reasonable…, but the underlying services must be necessarily related to those municipal regulatory functions which are not preempted by federal law."

http://www.arrl.org/news/view/court-rules-excessive-antenna-application-fees-violated-reasonable-accommodation


+ + +


Idaho Ham Radio STEM-Fest 1/12/19

Finally, we now have a name. After dozens of great suggestions and much hashing about among the organizers, the new hamfest will be called "Idaho Ham Radio STEM-Fest" The name connects with STEM, (Science, Technology, Engineering, Math) and is an essential part of attracting the interest from youth and teachers.

It will be held in Mountain Home on Saturday, April 27th (mark your calendars). This first event will be a 9 AM to 4 PM one-day event, and we are currently in negotiations to hold this event at a Mountain Home School; we will keep everyone informed as this proceeds.

Idaho Ham Radio STEM-Fest will soon have a website with on-going details. As soon as its up we'll be getting its URL out to everyone, and all clubs will be able to link it to their website as well. Between the website, email bulletins, flyer's, discussions on club nets, etc., everyone should be well informed. And through your involvement, we'll be able to make this work.

It is now to the point where we are gathering up what the participating clubs will be bringing to this event. What will your club or organization have to offer? VE testing, workshops, CW contests, presentations, the list is wide open - think "out of the box." Out of ideas? Think of "STEM-Fest" and see what your club might have to offer.

Below is a list of clubs and other organizations that have either agreed or tentatively agreed to commit to the Idaho Ham Radio STEM‐Fest. This list will let everyone know who is planning on participating in the event, and can also be used to market to potential attendees to show them that this is a multi-faceted, well-supported hamfest.

We do not want to leave anyone out, so please let us know of any corrections to this list.
Ada County ARES
American Legion Amateur Radio Club
Boise County Amateur Radio Club
Boise County ARES
Elmore County Amateur Radio Club
Elmore County ARES
HP Boise Amateur Radio Club
Idaho AMRRON
Idaho Old Dusty Radio Club
Idaho QCWA
Idaho Society of Radio Amateurs
Magic Valley Amateur Radio Club
Mountain Home SECARC
Owyhee County ARES
Treasure Valley Radio Association
Valley Wide REACT
Voice of Idaho Amateur Radio Club

For more information contact Bob NU7L rjm @ interplus.net or Dan K7REX dan.marler@gmail.com

New D-Star ONE Nanosatellites Launched; Es'hail Testing Under Way

1/10/2019

A December 27 Soyuz launch deployed the two German Orbital Systems D-Star ONE satellites D-Star ONE – Sparrow and D-Star ONE – iSat. Beacons have been successfully received from both satellites, which carry a D-Star repeater with an uplink at 437.325 MHz and downlink at 435.525 MHz. The D-Star ONE – Phoenix 3U CubeSat, launched last February, was lost. This winter's D-Star mission was to include three D-Star CubeSats. A pair of Kanopus V remote-sensing satellites was the primary payload. The flight carried 28 satellites in all.

"During the first low-elevation pass over Berlin, our team established successful contact with both satellites," German Orbital Systems said. "The received telemetry confirms nominal status of all systems."

The December Soyuz flight also deployed the UWE-4 1U CubeSat carrying an electric propulsion experiment and a 70-centimeter 9.6 k AX.25 digipeater, with an uplink/downlink frequency of 437.375 MHz.

Elsewhere, AMSAT-DL (Germany) has reported that in-orbit testing of the P4-A ham radio transponders on Es'hail-2 has begun. AMSAT-DL cautioned that, under no circumstances, should anyone attempt to transmit on the Es'hail-2 uplink.

"Like everyone, we are very excited by the received signals so far, and we do appreciate any monitoring and receiving reports from the Amateur Radio community," AMSAT-DL. Unsolicited transmissions on the Es'hail-2 uplink not only could delay commissioning and adversely affect relations with satellite owner Es'hailSat.

When all in-orbit testing has been successfully completed, the satellite will be moved to its final orbital
position at 26° E.

Amateur Radio Applications in Limbo as Partial Shutdown Continues 1/10/2019

The FCC is not processing any Amateur Radio applications as the partial government shutdown approaches its fourth week. The FCC suspended "most operations" at mid-day on Thursday, January 3, although an appearance of activity continues. For radio amateurs, the shutdown means that while the Universal Licensing System (ULS) continues to accept applications for all valid purposes, the FCC will not review or act upon them until the funding stalemate is resolved. This includes Volunteer Examiner Coordinator test session batch files as well as modification, renewal, and vanity call sign applications filed by individual licensees. Amateur Radio newcomers who have passed the required examinations will have to wait until the shutdown concludes to receive a call sign and authorization to operate. License upgrades are also on hold.

"Due to a lapse in funding, the operations of the Federal Communications Commission will be limited with no system support. We regret any inconvenience," the FCC says on the ULS home page. This means very limited human intervention while the shutdown continues, and if a system breaks down, it may not be repaired until after employees back on the payroll. At this point, 262 of 1,437 FCC employees (excepting contractors) remain on the job, as are FCC Commissioners.

The Antideficiency Act prohibits FCC and other federal employees from working until funds are available to pay them; they may not even volunteer, check their email, or attend meetings. While the law doesn't directly affect FCC automated filing databases, some of these cannot operate without regular human intervention.

The Commission has emphasized that it will undertake any activities necessary for the protection of life and property during the funding lapse. That includes the High Frequency Direction Finding (HFDF) Center in Maryland, considered essential.

The FCC website remains up, and the FCC Daily Digest of its activity continues to be posted, but the website is not being updated, and the only items in the Daily Digest are those related to spectrum auctions, activity that is funded through auction proceeds, not government funds. The Electronic Comment Filing System (ECFS) also will accept posts, but filings will not be reviewed or processed until after normal operations return.

The FCC spelled out the overall impact of the funding lapse in a January 2 Public Notice. Using available funds, the agency was able to maintain a business-as-usual posture until that date. The FCC released an updated Plan for Orderly Shutdown Due to Lapse of Congressional Appropriations on January 9. The resumption of normal operations will also be announced on the FCC's website.

http://www.arrl.org/news/view/amateur-radio-applications-in-limbo-as-partial-shutdown-continues

New General Class Question Pool Released, Effective July 1

1/7/2019

The National Conference of Volunteer Examiner Coordinators (NCVEC) Question Pool Committee has released the 2019 – 2023 FCC Element 3 General Class Question Pool into the public domain. The 2019 – 2023 General Class (Element 3) Question Pool is available in Word, ASCII text, and PDF versions. The new Question Pool is effective for Element 3 exams administered on or after July 1, 2019.

The Question Pool Committee also released on January 6 a revised diagram Figure G7-1 (PDF) (JPG), as part of the new Element 3 Question Pool. — Thanks to NCVEC Question Pool Committee
---

Upcoming ARRL Section, State, and Division Conventions
<![if !supportLists]>· <![endif]>January 5 -- New York City-Long Island Section Convention, Brookville, New York<![if !supportLists]>
<![endif]>January 12 -- Georgia ARES Convention, Forsyth, Georgia<![if !supportLists]>
<![endif]>January 18 - 19 -- Southern Florida Section Convention, Fort Myers, Florida<![if !supportLists]>
<![endif]>January 18 - 19 -- North Texas Section Convention, Forest Hill, Texas<![if !supportLists]>
<![endif]>January 20 - 26 -- Quartzfest Convention, Quartzsite, Arizona<![if !supportLists]>
<![endif]>January 25 - 26 -- Mississippi State Convention, Jackson, Mississippi<![if !supportLists]>
<![endif]>February 2 -- South Carolina State Convention, North Charleston, South Carolina<![if !supportLists]>
<![endif]>February 2 -- Roanoke Division Convention, Richmond, Virginia<![if !supportLists]>
<![endif]>February 8 - 10 -- Southeastern Division Convention, Orlando, Florida<![if !supportLists]>
<![endif]>February 15 - 16 -- Southwestern Division Convention, Yuma, Arizona<![if !supportLists]>
<![endif]>February 16 -- LCARC Winter-Fest, Hoxie, Arkansas<![if !supportLists]>
<![endif]>February 22 - 23 -- TECHCON Conference, Tampa, Florida<![if !supportLists]>
<![endif]>February 23 -- New Mexico TechFest, Albuquerque, New Mexico<![if !supportLists]>
<![endif]>February 23 -- Vermont State Convention, S. Burlington, Vermont
+ + +
"Idaho State Convention" Rebirth Coming in April 1/4/19
An official name for the event to replace the Idaho State Convention is being decided upon now but the event will be held on April 27th, 2019 in Mountain Home. It will be a one day event, at least for this first year. Here is a link to a video of the last meeting which was held on January 2, 2019.
Click Here for the link to the meeting
+ + +
ARRL Asks FCC to Incorporate Parity Act In Amateur Rules 12/20/2018
The ARRL has filed a Petition for Rulemaking (PRM) asking the FCC to amend its Part 97 Amateur Service rules to incorporate the provisions of the Amateur Radio Parity Act. The Petition has not yet been assigned a rule making (RM) number and is not yet open for public comment. In the past, the FCC has said that it would not take such action without guidance from the US Congress, but, as ARRL's Petition notes, the Congress "has overwhelmingly and consistently" offered bipartisan support for the Amateur Radio Parity Act.

"Private land use regulations which either prohibit or which do not accommodate the installation and maintenance of an effective outdoor antenna in residences of Amateur Service licensees are unquestionably the most significant and damaging impediments to Amateur Radio Service communications that exist now," ARRL said in its Petition. "They are already precluding opportunities for young people to become active in the avocation and to conduct technical self-training and participate in STEM [science, technology, engineering, and mathematics] learning activities inherent in an active, experiential learning environment. Without the relief in this Petition, the future of Amateur Radio is bleak indeed." The proposed amendments would have no effect on the FCC's limited preemption policy in §97.15(b), which pertains to state and municipal governing bodies, ARRL said.

Specifically, ARRL is proposing that the FCC amend Part 97 by adding a new subsection under §97.15, that prohibits and ceases the enforcement of, "Any private land use restriction, including restrictive covenants and regulations imposed by a community association," that either fails to permit a licensee to install and maintain an effective outdoor antenna capable of operation on all Amateur Radio frequency bands, on property under the exclusive use or control of the licensee; precludes or fails to permit Amateur Service communications, or which does not constitute the minimum practicable restriction on such communications to accomplish the lawful purposes specifically articulated in the declaration of covenants of a community association seeking to enforce such restriction. ARRL's proposed rule would not affect any existing antenna approved or installed before the effective date of a Report and Order resulting from ARRL's petition.

The proposed provisions reflect the accommodation reached in the ultimate version of the Parity Act bill at the urging of federal lawmakers between ARRL and the Community Associations Institute (CAI), the only organization representing homeowners' associations. "That legislation was passed unanimously by the House of Representatives four separate times and has the support of the Senate Commerce Committee and the current Administration," ARRL stressed.

"Private land use regulations are not 'contracts' in the sense that there is any meeting of the minds between the buyer and seller of land," ARRL said. "Rather, they are simply restrictions on the use of owned land, imposed by the developer of a subdivision by recordation in the land records of the jurisdiction when it is first created. They bind all lots in the subdivision. If an Amateur Radio licensee wants to buy a home in a subdivision burdened by deed restrictions, that licensee has precisely two options: Buy the residence subject to the restrictions, or do not buy the residence. There is no negotiation possible because the restrictions are already in place and cannot be waived by a seller in favor of a buyer."

ARRL noted in its Petition that an increasing number of homes available for purchase today are already subject to restrictive covenants prohibiting outdoor antennas, and that the Community Associations Institute data show that 90% of new housing starts in the US are subject to deed restrictions and other limitation that make installation of outdoor Amateur Radio antennas ineffective or impossible.

Also, ARRL pointed out that the Telecommunications Act of 1996 gives the FCC jurisdiction "to preempt private land use regulations that conflict with federal policy and that private land use regulations are entitled to less deference than municipal regulations, because the former are premised solely on aesthetic considerations rather than safety issues, whereas municipal regulations are concerned with both."

"It is now time for actual and functional parity in the Commissions regulations in order to protect the strong federal interest in Amateur Radio communications," ARRL said.

Dan Marler, K7REX
Idaho ARRL Section Manager Elect
208-914-8939
K7REX@arrl.net

+ + +
Swap Meet / Hamfest second planning meeting held on 12/06/18
(Watch a video of the meeting HERE )

The following are points discussed at the second planning meeting.

Event Date: April 27th, the Saturday of the last weekend in April was chosen for this event, subject to change if a significant conflict arises.

Location: Mountain Home was chosen for this first event. This makes it more of an in-between location for everyone in the Treasure and Magic Valleys and possibly might attract people from Eastern Idaho.
Tony Schiro, N2VPZ and Susan KI7YIU from the Elmore ARC volunteered to scout out a location in Mountain Home. They were thinking of trying to get into one of the school locations pending approval by local school authorities. If the event could be tied in with the general public as an educational/emergency prep activity, the school location would be ideal.

Event Name: The event name should come from club members with suggestions submitted through their club representative or website forum¬. The only rule being that the name of this event has something that identifies it as a ham radio event. Some of the ideas brought up were Southern Idaho Hamfest, Southern Idaho Amateur Radio (Blank) Idaho Council of Radio Clubs, IdaHam, or some other combinations. Please submit your suggestions.

Kelly Klaas, K7SU offered to set up an online forum for event planning and communications on the new ARRL Idaho Section website at http://www.idahoarrl.info/forumdiscussion.html. This would allow people involved and/or interested in the event to share and discuss thoughts and ideas.
Event discussions: Matt Thurston, N7DFL from ISRA brought up operating a Special Events station as part of the event and this was discussed. Rob Blout, KA7ERV from the Boise County ARES group volunteered to help set up and operate an event station and also bring their ARES communications van.

Mike Dunlap, K7MYU from the VOI Club volunteered the club's list of past speakers as an option for speakers at this upcoming event.

Tony Schiro, N2VPZ from the Elmore County ARC offered their club's Volunteer Examiner participation for license testing at the event. Note, several clubs have expressed an interest in VE testing and may need to combine their efforts.

Ron Morell, KA7U from TVRA suggested by email that there should be non-ham activities as well for spouses, kids, etc., that might include (but not limited to) crafts, painting, sewing, tea, and crumpets. Dan Marler, K7REX added that depending on location, RC flying might be included.
ARRL: Rather or not to have the ARRL sanction this event was discussed and shelved for future meetings due to ARRL requirements.

Marketing: Marketing is of paramount importance to make this event a success. Carol Reser, KC7MYN from The Old Dusty Radio Club suggested that each participating club take responsibility to make sure that their club members are not only informed about the event by all means possible, (nets, websites, Facebook, etc.,) but also encouraged all to participate.

Seed money: Seed money will have to be determined after any overall expenses are calculated.

SUGGESTIONS FOR NEXT MEETING
• Continue discussion on name
• More feedback from each club as to how they can participate and promote
• Discussion on how this event can be promoted among Idaho hams and beyond
• Feedback from Tony and Susan on location and RV/Motel/Hotel facilities in Mountain Home
• Additional brainstorming of ideas

THANK YOU ALL FOR YOUR PARTICIPATION Respectfully, Bob Minton NU7L rjm@interplus.net
+ + +
IMPORTANT: Please check to see if your Idaho repeaters are listed correctly.
12/8/2018
<![if !vml]>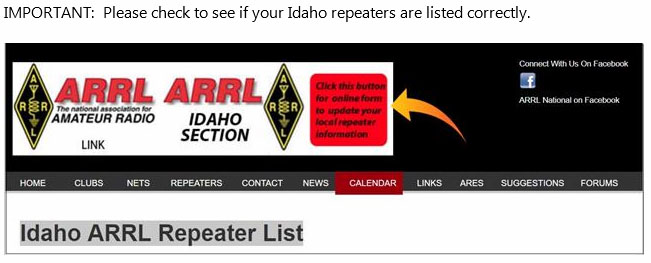 <![endif]>
https://www.idahoarrl.info/new/repeaters2.html
+ + +
Dan Marler K7REX is Idaho SM Elect 12/8/2018
ARRL election polls for Idaho's ARRL Section Manager (SM) are now closed; Dan Marler, K7REX is now Idaho's ARRL Section Manager elect. Ed Stuckey, AI7H, will be stepping down after serving ten (10) years as Idaho's ARRL SM and passing the hat over to Dan April 1, 2019.
+ + +
Idaho Section ARRL Introduces New Idaho ARRL Website 12/8/2018
It's a new look for the Idaho Section ARRL website. The new site launched officially at midnight December 8, 2018. The new site has many resources for Idaho hams that were not previously available including a forum page. There are several forums that you can now participate in and new ones can be created on the fly. The statewide repeater list has also been updated and there is an online form that you can fill out and send with corrections you may have to the current list. There is a COMING EVENTS page where you can list upcoming events and activities for your local ham radio club. This is also a work in progress so new features will be added along the way. If you have ideas for features please email K7SU @arrl.net. If you are reading this then you already have the link for the new site but for the record it is www.idahoarrl.info. Be sure to pass it along to others who may not know.
+ + +
Idaho SM Ed Stuckey Announces Two Team Changes and One New Appointment 12/5/2018
Idaho ARRL Section Manager Ed Stuckey AI7H, has announced two appointment changes and one new appointment to the Idaho ARRL team.

Richard Dees W7BOI, has been appointed the Section Emergency Coordinator for the Idaho Section. Dees will oversee County Emergency Coordinators (EC's), District Emergency Coordinators (DEC's), and Assistant Section Emergency Coordinators (ASEC's) from around Idaho.

Marty Edwards AK7ME, formerly Section Emergency Coordinator (SEC), has been appointed Assistant Section Manager (ASM). Edwards will assist the Idaho Section Manager in duties from his eastern Idaho section.

Terry Fletcher, K7THF, has been appointed to the position of ARES Emergency Coordinator for Twin Falls County. Fletcher's ongoing work in organizing emergency communications in Twin Falls County is being formally recognized through this appointment as EC for Twin Falls County.

+ + +
Idaho Hams Monitor New Satellites for AMSAT 12/4/18
AMSAT's latest Fox series cubesat was successfully launch yesterday. It is currently in SAFE mode being evaluated by the AMSAT team. No user operation, PLEASE.
Veronica, the Fox series voice, announces every two minutes and simultaneously transmits data (DUV). Both Lisa, AK7WS, and Stephen, N7DJX, our local ground stations in the Boise area, are copying the data and relaying it to AMSAT.
This is four successes for four Fox tries by AMSAT, a truly remarkable accomplishment. The fifth, and final, Fox cubesat will be launch soon. All bets say that will make it 5/5!
73
Gene W4IMT

+ + +
Some Ham Radios Modes Under Scrutiny as National Security Risk 11/24/18
Click this link for the full story
+ + +
Science Community Reports Interesting Phenomenon..."Dead" Bands with Many Contacts! 11/18/2018
Click this link for the full story.
+ + +
PNW ARRL Director and Vice Director Elected 11/17/2018
ARRL Northwestern Division Director

Mike Ritz, W7VO 1,589
Bonnie Altus, AB7ZQ 1,308
Horace Hamby, N7DRW 495
Mr. Ritz was declared elected.

ARRL Northwestern Division Vice Director

Mark Tharp, KB7HDX 1,368
Daniel Stevens, KL7WM 1,228
Delvin Bunton, NS7U 767
Mr. Tharp was declared elected.

VHF Interference in Boise area found and corrected 11/15/2018
From Amos Kirk, KT7WW

Final cause of VHF interference: 11/14/18 11:20 local time I followed up with the St. Lukes IT department complaint ticket that I initiated Friday 11/9/2018. When I finally got past the press this button press that button game, I stated that I was following up on an existing ticket, and gave them the ticket number to their tech. The tech gave me the status of the problem. The complaint ticket had been forwarded to the appropriate department, and had been updated. The IT department tech read the report on the problem ticket to me. Final problem was a power amplifier in one of their paging systems on the rooftop. The power amplifier was self oscillating.

At that point in time, I told them that I would like to confirm that our source of interference is gone, and on behalf of the local Amateur radio community, we greatly appreciate their quick response and resolution to the problem. I requested that the IT department tech forward our confirmation and appreciation in how they handled the problem to the appropriate department, which he said he would

I also updated my complaint ticket with the FCC this morning to let them know the problem has been resolved.
My thoughts on the what's and why's and how's.... A failed piece of equipment such as an amplifier when self oscillating may not lock onto one particular frequency. As a result, it could very easily walk across a frequency range with no predictable pattern. As I demonstrated in a previous post, the pager frequency could be observed transmitting just like it should, so they would never have any reason to go looking for a problem. However, when observed alongside our interference problem, you could start to clearly see what was happening. Every time the pager unkeyed, our problem would appear, and last until the pager keyed up again, and be gone until it unkeyed.

Since there is no predictable pattern to when a page, goes out, or how many pages go out at one time, we would see some very strange patterns of when this thing would transmit spurious emissions on our frequencies.. Couple up that with the self oscillating factor, and there you have it.

Now... even if that amplifier was only oscillating at a 1 watt output, you could still have a very strong signal that could be heard over many miles. Couple that signal source to (for example) a 9 DB gain antenna on a rooftop, and now you have an 8 watt effective radiated power signal. Even if it only put out 1/2 a watt, you STILL would get 4 watts ERP assuming minimum loss in any feed between the transmitter and antenna.

Again, a great big THANK YOU to all who participated in helping find it. I really enjoyed the chance to discuss the possibilities of what it could be, how we might find it, and how we might fix it. I was very happy to see other hams willing to take some time to go look for it. Thanks to all who provided observations from around the city. Everyone handled this situation in a way that represented who we are as Amateur Radio operators very well. This was truly a great collaborative effort. I'm happy we could get this problem solved before the upcoming Fox 1C satellite launch. The best part of my day yesterday was right at the end of it. I opened up an email from H. Stephen Nipper N7DJX reporting to me that the frame rate from last night's AO-92 pass was back where it should be.

11/3/2018
Video link of first meeting/planning session for a new Idaho State Convention

A meeting was held in Boise November 1st among representatives from various Idaho ham radio clubs. The purpose of the meeting was to see if there is enough support to revive the Idaho State Convention. The meeting was recorded and can be viewed in its entirety from THIS LINK. After viewing the video please email any comments you may have to ARRL Asst. Section Manager Dan Marler. dan . marler @ gmail . com
Or you can use the "Suggestion Box" located HERE.
10/13/2018
Rumors of the death of the Idaho State Convention may be exagerated.
Idaho ARRL Asst. Section Manager Dan Marler told the members of the Magic Valley Amateur Radio Club Saturday that he is working to bring back the Idaho State Convention. He said the convention was a great thing for Idaho hams and he would like to help the various clubs around the state work together to bring it back. He said with several clubs working on it there is a better chance of long-term success. He will be forming a work group soon with representatives of the various clubs around the state to start working toward that goal. The meeting will be announced later but will probably be held in the Boise area. The Idaho State Convention was started in 2009 by the Voice of Idaho ARC. The last year it was held was 2017.
+ + +
10/3/2018
ARRL Foundation Announces Scholarships
The ARRL Foundation announces the period for scholarship application submission begins Monday, October 1, 2018 and ends January 31, 2019. Remember, there are a few scholarships where Northwestern Division applicants are given some preference:
Mary Lou Brown Scholarship
Wilse Morgan Memorial Scholarship
Joel and Martha Miller STEM Scholarship
William Bennett Memorial Scholarship
Lois Manley and Randall Pitchford Scholarship
Spread the word; let's help some of these students along. More information can be found at:
http://www.arrl.org/scholarship-descriptions
ARRL Northwestern Division
Director: James D Pace, K7CEX
k7cex@arrl.org
+ + +
10/03/2018
ARRL Elections Northwest Division
In the Northwestern Division, both the Director's and Vice Director's chairs are up for grabs, as incumbent Jim Pace, K7CEX, has opted not to seek a new term on the Board. Incumbent Vice Director Bonnie Altus, AB7ZQ, is in a three-way race for the Director's seat. The other two candidates are Horace Hamby, N7DRW, and Mike Ritz, W7VO. A three-way race also exists for the Vice Director's seat that Altus is vacating in order to run for Director. The candidates are Delvin Bunton, NS7U; Daniel Stevens, KL7WM, and Mark Tharp, KB7HDX.
+ + +
9/26/2018
ARES Volunteers Help In South Carolina
Amateur Radio Emergency Service (ARES) volunteers from several South Carolina counties are pitching in to help support emergency communication, as the state deals with the aftereffects of Hurricane Florence. The storm, now a tropical depression, continues to generate heavy rainfall in the Carolinas. "Amateur Radio operators are far from 'amateurs' when it comes to providing communication in an emergency," ARES Richland County Emergency Coordinator Ronnie Livingston, W4RWL, said. "Our volunteers here in Richland County have been staffing stations at the Richland County Emergency Operations Center (EOC), as well as at the Red Cross, since the requests were first received." ARES District Emergency Coordinator EMEA Area 3 Earl Dean, W4ESD, said operators at the State Emergency Operations Center (SEOC) have been keeping in contact with field volunteers in Marion and Dillon counties, after conventional telecommunications failed there. "We were able to deploy assets and personnel, thanks to our volunteers who managed communications between these areas and coordinated with the appropriate agencies," Dean said. "South Carolina ARES is fully activated," ARRL South Carolina Section Emergency Coordinator Billy Irwin, K9OH, told ARRL in advance of the storm, adding that he's been coordinating regularly with the SC Emergency Management Division." ARRL South Carolina ARES needs additional Amateur Radio volunteers to assist with the response effort and is in discussion with the ARRL Alabama Section to fulfill this need through a mutual aid agreement. Gordon Mooneyhan, W4EGM, Public Information Officer (PIO) for the Grand Strand Amateur Radio Club (GSARC), said radio amateurs set up and managed organized communication networks to assist local government
and emergency agencies, as well as non-commercial health-and-welfare messaging for residents affected by the disaster, to let family members outside the affected area know they are okay. On-air operations for National Hurricane Center station WX4NHC, the Hurricane Watch Net, the VoIP Hurricane Net, and SATERN have concluded. — Thanks to ARRL South Carolina Section PIC Tammy A. Livingston, N4TAL